News Quiz: Test your news knowledge
Posted on Sat, Aug 4, 2012 : 9:29 a.m.
A 69-year-old man was in custody because of an incident involving his grandson. Sgt. Craig Flocken said this of the situation: "He's not been the greatest grandson. The grandfather wanted to make a point by" doing what?
A) punching him in the face
B) shooting off a round
C) breaking his grandson's cellphone
D) stealing his car

A thief is breaking into Dexter Township homes. What was the one type of item was taken in at least two of the burglaries?
A) Video games
B) Credit cards
C) Exotic birds
D) Computers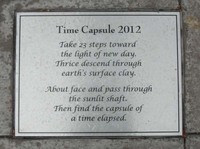 Courtesy of Ann Arbor DDA
A 20-year-old man was arrested for kicking a homeless man in the head. Why did the man say he did it?
A) The homeless man had mocked him
B) He dislikes the homeless
C) He was drunk
D) Someone stole his Playstation

The photo is of the riddle that conveys the underground parking structure's time capsule location. More than 100 items were placed in it. What was NOT placed in it?
A) Disposable camera
B) "Hillary for President" T-shirt
C) A photo of the Michigan football team playing Penn State
D) Borders book store gift card and rewards card

Answers: 1-B, 2-A, 3-D, 4-C