News Quiz: Test your news knowledge
Posted on Sat, Jul 7, 2012 : 9:57 a.m.
As if people weren't criticizing the water sculpture in front of City Hall enough, what has happened to it?
A) It fell over.
B) The water isn't flowing.
C) It cost more than previously thought.
D) The original designer said he didn't like the final construction.

A Northfield Township woman made a huge mistake when she allegedly drove away after hitting what?
A) Her boss's car
B) A parking structure gate
C) A cop car
D) A cop

A burglary suspect was apprehended when police reportedly found him where?
A) Attempting to sell the stolen items at his garage sale
B) Attempting to sell the items back to the owners
C) Passed out behind the wheel of his car
D) Breaking into another house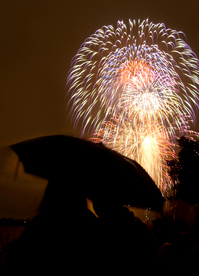 File photo | AnnArbor.com
While it was a festive Fourth of July week, there were many concerns this year. What has NOT been a cause for concern?
A) Power outages
B) New fireworks laws lowering personal fireworks injuries
C) Fireworks and dry conditions
D) Extreme temperatures

Answers: 1-B, 2-D, 3-C, 4-B