News Quiz: Test your news knowledge
Posted on Sat, Jul 14, 2012 : 10:02 a.m.
Rich Kinsey described people who parallel park by bumping cars by what term?
A) Monday drivers
B) Pinballs
C) Parking by Braille
D) Drunk

Vandals wrote a rapper's name all over the New York City-skyline mural outside Cavern Clubs Entertainment complex. What was the name of the rapper?
A) Despot
B) Chamillionaire
C) Dreddy Kruger
D) Lil' Scrappy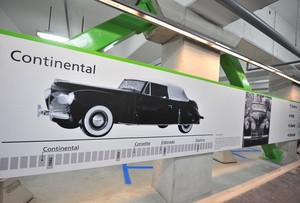 Ryan J. Stanton | AnnArbor.com
What is the pictured sign for?
A) The Jackson Road car cruise
B) The Rolling Sculpture car show
C) To identify the floor of the underground parking structure
D) It's a new exhibit in the William Street parking structure

Someone once again changed the message on a digital road sign. What did they change the message to?
A) You'll never get to work on time!
B) Trapped in a sign factory
C) Zombies Ahead
D) YOLO

Answer: 1-C, 2-A, 3-C, 4-D