New U-M study finds smoking ban has not killed the bottom line of bars, restaurants
Posted on Mon, Sep 17, 2012 : 11:20 a.m.
More than two years after it went into effect, Michigan's indoor smoking ban at businesses has had no significant negative impact on bars and restaurants, concludes a state-commissioned study conducted by University of Michigan researchers and released Monday.
Sales tax collections from Michigan retail eating and drinking establishments, as well as Club Keno sales, from 2006 to 2011 were collated by the Michigan Department of Treasury and analyzed by a team from U-M's Institute for Social Research.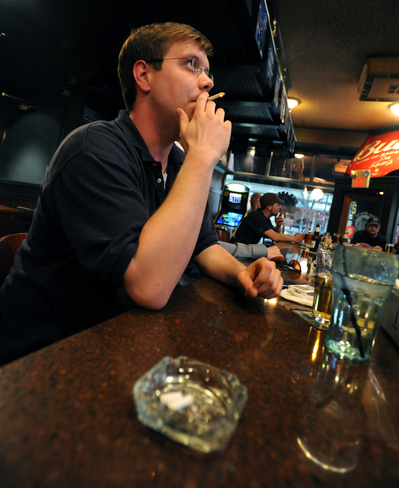 Lon Horwedel | AnnArbor.com
The smoking ban, signed into law in December 2009 and put into effect on May 1, 2010, made Michigan the 38th state to enforce such a
ban in bars and restaurants
. Implementation of the ban brought
widespread concern
from bar and restaurant owners that it would be bad for business, according to the study.
Helen Levy, Ph.D., led the study, which found that overall the ban did not have a statistically significant negative impact on businesses.
The report detailed that there were both winners and losers in terms of economic consequences: Some restaurants did see increases in business and others saw less traffic.
"It is important to note that while some establishments saw sales fluctuations after the passage of the Dr. Ron Davis Smoke-Free Air Law, bars and restaurants as a whole were not adversely affected," James K. Haveman, director of the Michigan Department of Community Health said in a statement. "We commend Michigan bars and restaurants for their support in transitioning to a smoke-free environment as this law has also drastically improved the air quality in these establishments."