U-M research shows longer CPR attempts may be needed
Posted on Wed, Sep 5, 2012 : 1:57 p.m.
There might be a new attitude surrounding standard CPR practice, according to the University of Michigan Health System.
A new study done in part by U-M researchers shows some patients could benefit from longer resuscitation attempts.
While many practitioners are hesitant to perform longer attempts — 30 minutes or more — the research shows some patients only were able to resuscitated after 30 minutes or more, U-M said in a news release.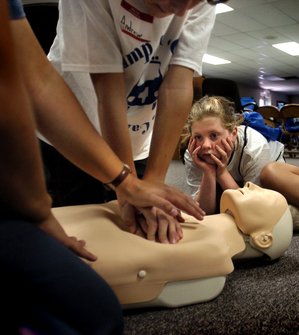 Jackson City Patriot file photo
The research also showed that in hospitals where the attempts were longer, the patient had a greater likelihood of survival to discharge, and did not appear to have substantially worse neurological function than those with shorter times.
"Our findings suggest an opportunity for improving care in this high-risk population. Overall, it may involve standardizing the time required for continuing resuscitation attempts prior to decisions regarding termination of efforts," cardiologist Zachary D. Goldberg said in the release.
Goldberg is leading the study and works as an assistant professor at the University of Washington and also is a Robert Wood Johnson Foundation cardiology fellow at U-M.
U-M cardiologist and senior author of the study, Brahmajee K. Nallamothu, said while the study does show longer attempts should be considered, the research is only one piece of evidence and duration times will vary with each patient.