New Hampshire hospital employee charged with infecting patients with hepatitis C worked in Ann Arbor
Posted on Mon, Jul 30, 2012 : 1 p.m.
This story was updated at 2:20 p.m.
A New Hampshire hospital worker charged with infecting patients with hepatitis C formerly worked at the University of Michigan Health System in Ann Arbor, Michigan officials announced Monday.
David Kwiatkowski, 33, is charged with causing a hepatitis C outbreak at a cardiac catheterization lab at Exeter Hospital in New Hampshire.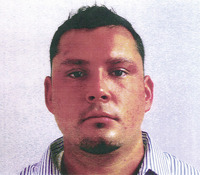 AP Photo/U.S. Attorney's Office
Between 2003 and 2007, Kwiatkowski worked in at least six Michigan medical facilities, according to the
Michigan Department of Community Health
. He worked as a technician hired by hospitals for temporary stints across the country.
After Kwiatkowski was arrested July 19, the MDCH began its investigation into Kwiatkowski's employment history in the state, said Angela Minicuci, spokeswoman for the department.
Kwiatkowski was employed at the main campus of the University of Michigan hospital for three months in 2006 as an interventional radiologic technologist in the Department of Radiology. He did not have responsibility for administering medication to patients, according to a news release from UMHS.
UMHS declined to comment as to why Kwiatkowski left the hospital.
The investigation is ongoing into the medical facilities in Michigan where Kwiatkowski was employed during the following time frames:
The MDCH is asking patients who visited the above facilities and received an injectable narcotic during the time when Kwiatkowski worked there to be tested for hepatitis C, as they may be at increased risk for the virus.
UMHS is asking patients who fit into this category be tested as a precaution. Beginning 8 a.m. July 31, patients may call (877) 233-4040 with questions and to schedule an appointment.
Kwiatkowski is known to have been infected with hepatitis C since at least June 2010, according to the MDCH. The results of the investigation thus far have not indicated that Kwiatkowski had the virus while working at a medical facility in Michigan.
Due to a negative result on a hepatitis C test Kwiatkowski took while employed at a particular medical facility in Michigan, the MDCH has excluded two hospitals from its investigation.
Hepatitis C is a bloodborne viral infection that can cause inflammation of the liver and may lead to chronic health issues. It can be detected by blood tests and treated with antiviral medications.
The investigation into Kwiatkowski's employment history as a hospital worker was launched nationwide after he was arrested and charged for federal drug crimes.
State health officials and hospitals in Georgia, Kansas, Maryland, New York and Pennsylvania have also confirmed his employment. He was hired in New Hampshire in April 2011.
A hospital official in Arizona said Kwiatkowski had been fired from her facility in April 2010, after he was found unresponsive in a men's locker room with syringes and needles. Tests showed Kwiatkowski had cocaine and marijuana in his system, said Monica Bowman, chief executive officer of the Arizona Heart Hospital.
Investigators believe Kwiatkowski stole syringes containing fentanyl, a powerful anesthetic more potent than morphine, and injected himself with them. They said he then put another liquid, such as saline, into the syringes, which were later used for patients.
Altogether, 31 people -- including Kwiatkowski -- have tested positive for the same strain of the disease since the investigation began in late May.
Massachusetts police said Kwiatkowski was found intoxicated along with a suicide note in a hotel room in Marlborough, Mass., the week before his arrest.