New flagpole to be dedicated Saturday at Saline's Oakwood Cemetery
Posted on Fri, Jul 20, 2012 : 5:55 a.m.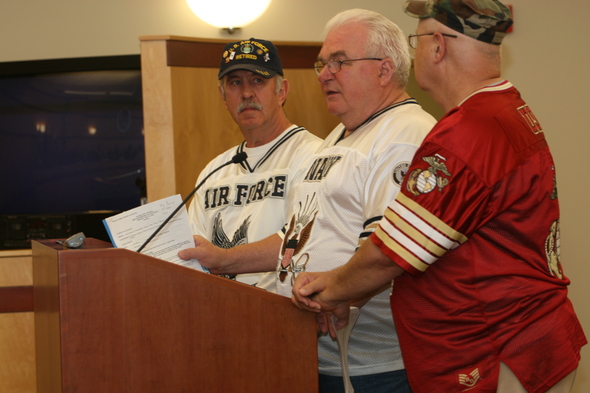 Under the banner "What So Proudly We Hail," some local veterans have been raising money to replace a 40 year-old flagpole and upgrade the area around it at a city-owned cemetery in Saline. They've reached their goal, and on Saturday, the veterans will dedicate a new flagpole at Oakwood Cemetery.

Veterans George Perrault, who retired from the U.S. Navy; Pete Belaire, a U.S. Marine; and Bob Kwiecinski, who retired from the U.S. Air Force; received approval from the Saline City Council in May to replace the flag, improve lighting for the pole and set up a maintenance contract that includes replacing the flag three times a year.

Within a week of that approval, just in time for Memorial Day, the Robison-Bahmiller Funeral Home of Saline donated the $2,500 needed for the new flagpole.

"It will serve us all and remind us daily of how much we are indebted to those in our military who have served our country in years past, to those serving now, and to those who will serve in the future, that we all may enjoy freedom to its fullest," said Perrault.

Other donations included one from Fred Hamilton, president of K&F Electric Co. in Saline, who said that his company and its suppliers were honored to pay the cost of replacing and upgrading the lights in the ceremonial area to energy-efficient LED Lights.

Sophie Degan of Ann Arbor also donated money, explaining that she was a World War II refugee liberated by the American soldiers and that she feels indebted to Americans.

Perrault says that more than $4,500 was donated for the "What So Proudly We Hail" project.

"There lie over 200 veterans in Oakwood who served their country," said Perrault. "Some paid the ultimate sacrifice in defense of our great nation."

The public is invited to sing the national anthem and recite the Pledge of Allegiance at 11 a.m. Saturday at Oakwood Cemetery, when the new flag will be raised for the first time.