New boardwalk latest development at Milan-area county preserve
Posted on Wed, Aug 29, 2012 : 5:56 a.m.
Late this fall, hikers could be traipsing over a new boardwalk at the Draper-Houston Meadows Preserve near Milan in York Township.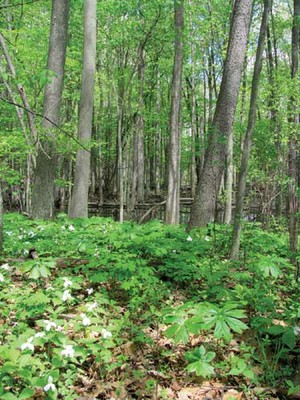 From ewashtenaw.org
The
Washtenaw County Parks and Recreation Commission
is
accepting bid proposals
for construction of a boardwalk in a part of the preserve, which will improve access to wetland areas that flood seasonally.
The 500-foot-long wooden boardwalk will connect to a pedestrian bridge built in January 2011 over the Saline River and extend along the western side of the park, said Richard Kent, park planner for the Washtenaw County park system.
The county purchased 80 acres of the property in 2008 through its Natural Areas Preservation Program. About half a mile of the land fronts the Saline River.
The entrance to the preserve is off of Mooreville Road on the south side, about a quarter mile west of Platt Road.
Last winter, an additional 19 acres was added to the southern part of the preserve after NAPP bought part of the farm of Robert and Connie Schrock, Kent said.
The newest addition to the preserve is named Schrock Family Sanctuary, according to the purchase agreement, and is marked by a sign.
"It will make the land on the west side of the river more easily accessible," Kent said.
The boardwalk will be funded by the millage raised by the NAPP. According to the county's request for proposal document, the county would like the work to begin Sept. 19 and be completed by Oct. 31.

View Washtenaw County Natural Areas Preservation Program in a larger map