Nail salon where more than 70 marijuana plants were discovered up for lease
Posted on Sat, Jul 7, 2012 : 5:58 a.m.
The space formerly occupied by the US Nails salon in a Pittsfield Township Meijer store, where police found more than 70 marijuana plants, has been put up for lease.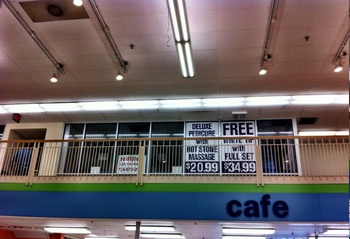 Melanie Maxwell | AnnArbor.com
A water leak on April 17 revealed a hydroponic water filter sitting outside of a closet on the upper floor of the store at 3825 Carpenter Road.
Artificial lighting was also found nearby, a situation that led to police interviewing salon employees and executing a search warrant. The plants were found during the search, according to police.
The nail salon is no longer operating in the store, a store official said. Records show the 1,227-square-foot space in the store is available for a rental rate of $27 per square foot per year.
The space is one of two spaces available inside the Meijer store. Along with the salon space, there is a 329 square-foot space, records show.
The Livingston and Washtenaw Narcotics Enforcement Team was placed in charge of the investigation into the marijuana discovery. The investigation continues.