with traffic map:

University of Michigan welcoming thousands of students back to campus for another school year

Posted on Tue, Aug 28, 2012 : 2:59 p.m.
Roughly 9,000 students will pour into Ann Arbor over the next three days, bringing a buzz of activity to the University of Michigan's campus after more than three months of relative quiet.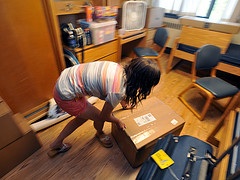 Already about 700 students have moved into the dormitories. Most of those students are volunteers assigned to help the move-in process go smoothly.
Meanwhile, in the neighborhoods surrounding U-M, students are already moving into apartments and will continue to do so until fall classes begin Tuesday, Sept. 4.
This week's abundance of cardboard boxes and idling cars outside apartment buildings serve as a reminder that Ann Arbor is ushering in another school year and town life, and traffic, is about to get a lot busier.
"You'll have a little bit of a longer line waiting for a table," joked Jim Kosteva, U-M's director of community relations. "But there's a lot of excitement and a lot of energy."
This fall, about 560 students will move into Alice Lloyd Hall, which recently finished a $56 million year-long renovation. The dormitory's renovation is part of U-M President Mary Sue Coleman's Residential Life Initiative, which will have included more than $440 million in residence hall renovations at the end of this academic year.
This year, the 850-bed East Quadrangle hall and 570-bed Baits I dormitory will be closed, one due to renovation and the other due to decay. Those closings, when coupled with the reopening of Alice Lloyd Hall, reduced on-campus housing capacity for undergraduates by more than 850 beds.
U-M accommodated for the loss by converting some former graduate student units in the Northwood Apartments on North Campus to undergraduate housing and converting some residence hall rooms and common spaces to triples. After those adjustment's, U-M's housing capacity for undergraduates was reduced by only about 400 beds.
The reduction prompted U-M to reserve spots for freshmen and allow sophomores to pick their dormitories first, instead of upperclassmen as in years past. That meant that while underclassmen were guaranteed spots, several juniors were forced off campus.
Luckily for them, nearly 1,000 new beds entered the student housing market this year with the opening of Zaragon West, City Place and Landmark complexes.
Roughly 9,700 students are expected to live on campus this year. Approximately 6,400 incoming freshmen paid a non-refundable deposit this summer, signifying their acceptance of U-M's admission offer. However U-M Admissions Director Ted Spencer said he expected about 6,000 to enroll.
Student move-in begins at 6 a.m. Aug 29 and ends at 10 p.m. Aug 31. During that time, the following roads will be affected:
Thompson - one way southbound from East Jefferson to Packard
Madison - one way eastbound from South Division to South State
Observatory - one way southbound from East Ann to Geddes
East Washington - one way westbound from Fletcher to South State - meters bagged
Maynard - meters bagged from Jefferson to East William
North University Court - meters bagged
Monroe - from State to the end of the cul-de-sac - meters bagged
Oxford - parking reserved for move-in from Hill to Geddes
Washington Heights - from Observatory to E. Medical Center Drive
East Ann - one-way eastbound from Zina Pitcher Place to Observatory
U-M is paying the city $10,450 for occupancy of the public right-of-way during the move-in period. The city also is prohibiting those with peddling licenses and sidewalks permits from using them within a one-block radius of affected streets.
For students looking for things to do once they get unpacked, the school is holding convocation for new students at 4:30 p.m. and 7 p.m. at Hill Auditorium on Thursday. Also on Thursday evening, starting at 7 p.m., the school's welcome party, Escapade, will take place at the Michigan Union.
On Friday students can shop at Meijer. The Ann Arbor Saline Road store will open to students from 9 p.m. to 1 a.m., and there will be games, music and free food. On Saturday, there is a block party on the North Campus diag from noon to 5 p.m. and a 6 p.m. watch party at Michigan Stadium to watch the Wolverines play Alabama.