U-M study traces underpinnings of childhood obesity by examining eating, lifestyle habits
Posted on Mon, Jan 31, 2011 : 4:31 p.m.
Students who are obese are more likely to consume school lunch instead of a packed lunch from home, a new study from the University of Michigan Cardiovascular Center shows.
In addition, students who are obese spend more than two hours a day watching television or playing a video game.
The results come from check-ups of 1,003 Michigan sixth-graders who participate in Project Healthy Schools, a program run by the U-M Health System. Several local school districts take part in that project.
The study, which looked at lifestyle factors influencing weight, was published last month in the American Heart Journal.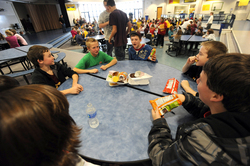 Lon Horwedel | AnnArbor.com
"For the extremely overweight child, genetic screening may be a consideration," said study senior author Kim A. Eagle, M.D., a cardiologist and a director of the U-M Cardiovascular Center, in a press release. "For the rest, increasing physical activity, reducing recreational screen time and improving the nutritional value of school lunches offers great promise to begin a reversal of current childhood obesity trends."
The prevalence of obesity among U.S. children ages 6 to 11 has increased from 6.5 percent in 1980 to 19.6 percent in 2008, according to the study.
U-M researchers found that 58 percent of obese children had watched two hours of TV in the previous day, compared to 41 percent of non-obese children. Forty-five percent of obese students always ate school lunch, but only 34 percent of non-obese students ate school lunch, the study's press release said.
Because the eating and exercise patterns of obese children were so different from their normal-weight peers, researchers concluded that lifestyle was more closely linked with childhood obesity than genetics, according to the press release.
"If diets and physical activity were similar in obese and non-obese students this would argue for a stronger genetic basis for obesity in children," said study first author Taylor Eagle.
In the U-M study, 15 percent of the middle school students were obese, but nearly all, whether overweight or not, reported unhealthy habits, the study's press release said.
According to the study's press release, more than 30 percent had consumed regular soda the previous day, and less than half remembered eating two portions of fruits and vegetables within the past 24 hours. Only one-third of students said they exercised for 30 minutes for five days in the previous week.
"It's clear that opportunities to improve health abound for the majority of our students, not just the 15 percent who are already obese," said study co-author Elizabeth Jackson, M.D., assistant professor of internal medicine at the U-M Cardiovascular Center.