Michigan officials meet at Ypsilanti park to announce $18.25M statewide plan to fight obesity
Posted on Mon, Jun 4, 2012 : 1:43 p.m.
Amy Biolchini | AnnArbor.com

State officials met Monday morning at the Recreation Park on Congress Street in Ypsilanti to announce a new, five-year plan to combat obesity in Michigan.

The plan is a result of Gov. Rick Snyder's charge to the Michigan Department of Community Health to reduce and prevent obesity in the state.

The location for the announcement was no accident.

Michigan Department of Community Health staff wanted to showcase the initiatives taken by Washtenaw County Public Health to engage the public in healthful activities at Recreation Park in Ypsilanti - including installing community gardens, walking paths and replacing the basketball hoops.

"This really is a such a great testament to what happens here in the county," said State Sen. Rebekah Warren, D-Ann Arbor, on Monday in Ypsilanti.

Community engagement on behalf of local groups is the crux of the state's plan to turn the obesity epidemic on its head.

The "Michigan Health and Wellness 4 x 4 plan" announced Monday focuses on four healthful behaviors - a healthful diet, regular exercise, annual physicals, no tobacco use - and four health measures to watch: body mass index, blood pressure, cholesterol and blood sugar.

The plan emphasizes the importance of local community groups to motivate people to make health a personal priority. The state aims to create 46 "community coalitions" to make this a reality. Olga Dazzo, director of the Michigan Department of Community Health, could not elaborate as to how the members would be chosen.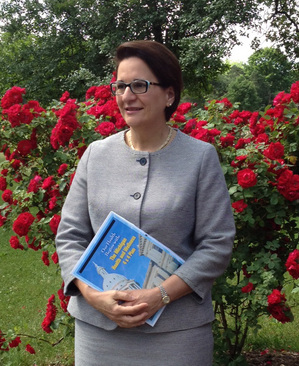 Amy Biolchini | AnnArbor.com
In its first year, the plan will cost
$18.25 million
- and officials still are seeking funding sources.
Officials are still working on benchmarks for incentive programs for healthful behaviors, but they will be forthcoming, Dazzo said.
In Michigan, 32 percent of adults and 17 percent of youth are obese. The state continually ranks as one of the top 10 heaviest states in the nation -- although Washtenaw County is one of the healthiest counties in the Michigan, according to 2012 data.
Dazzo said she's very familiar with how difficult it is to lose weight.
"I went through the struggles of identifying that I was obese," Dazzo said, explaining how she's lost about 40 pounds so far and has brought her body mass index to a healthier level.
Hoping to instill "social change," the plan takes a unified approach across all departments to address a "public health crisis," Dazzo said.
The MDCH plans to partner with employers, trade and professional organizations - including restaurant associations, educational institutions.
State government departments have specific marching orders as a part of the plan:
Department of Education: Implement Michigan Nutrition Standards in school districts and on campuses, develop state policy for include physical education during the school day as well as before and after school, facility-level interventions
Department of Agriculture and Rural Development: Strengthen the farm-to-school network, collaborate on a new program beginning this year - Pure Michigan FIT (Feeding Infants and Toddlers, 0-5) that targets nutrition education for primary caregivers of babies and toddlers
Department of Transportation: Develop a "complete streets" policy (roadways that are planned, designed and constructed to provide safe access by car, truck, transit, assistive device, foot or bicycle) and give consideration to communities that have implemented such policies for federal grants
Department of Human Services: Develop nutrition standards, physical activity requirements and screen-time limits for licensed family and group child care homes
Department of Natural Resources: Further involvement to bring environmental education to K-12 classrooms and classrooms into the outdoors
Michigan Economic Development Corporation: Establish promotional opportunities with trade and restaurant organizations that adopt the "4 x 4 Plan"
Chronic diseases from obesity are estimated to cost the state about $3.1 billion in 2008, according to a news release from the MDCH.
Governmental departments will also be encouraged to implement more healthful practices.
In attendance at the Monday news conference was Washtenaw County Administrator Verna McDaniel, who said she plans to work with the 1,300 workers the county employees to make a more "aggressive" plan to promote healthful behavior in departmental workplaces.
"I think it's best practices at its best," McDaniel said. "It really is going to take all of us to work together."
McDaniel noted working with the restaurant's association and creating an incentive program for employees could be possible next steps for the county to promote more healthful lifestyles.
"I'm extremely proud of our public health department," McDaniel said.
The Recreation Park in Ypsilanti has made use of a number of Building Healthy Community state funds - including installing new basketball hoops, a walking path and a community garden.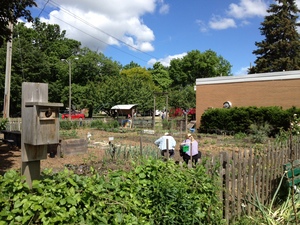 Amy Biolchini | AnnArbor.com
Local residents have become invested in the park - going as far as to find funding to renovate the Rutherford Pool this summer, said
Jenna Bacolor
, program supervisor for health promotion and disease prevention for Washtenaw County Public Health.
"We're eager to embrace the state's wellness plan," Bacolor said.
After the first five years of implementing the plan, Dazzo said she hopes a smaller percentage of the population will be overweight.
The initiative's success now relies on the state's ability to find funding for it. Dazzo said she believes several foundations and organizations that would benefit from a healthier population are likely to contribute to the effort.