MDOT targets June 22 as final day for 'Camp Take Notice' to vacate state property
Posted on Wed, May 30, 2012 : 2:14 p.m.
Previous story: Crowd supports Camp Take Notice as neighbors of Ann Arbor tent city circulate petition for eviction
Updated at 3:15 p.m.
The Michigan Department of Transportation is officially telling the homeless encampment near Ann Arbor known as Camp Take Notice to leave its property, but officials are trying to help residents find alternative living arrangements.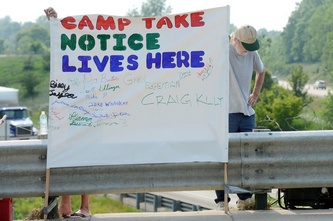 Melanie Maxwell | AnnArbor.com
A letter was sent on MDOT's behalf Tuesday night to residents of the tent city -- located in Scio Township, between Jackson and Dexter-Ann Arbor roads off of Wagner Road near M-14 on an MDOT right of way -- instructing them to leave by June 22 or face possible arrest on trespassing charges.
The notice was given in conjunction with the Michigan State Housing Development Authority's announcement that additional housing subsidies will be made available specifically for campers.
Last week MDOT director of communications Jeff Cranson said there was no immediate plan to force the camp out as rumors of eviction circulated.
Supporters of the camp rallied last Thursday and expressed hope that the camp could stay in its current location.
"We don't look at it as an eviction," Cranson said on Wednesday. "We hope to have everybody in alternative housing (by June 22)...Our hope is to not have to use law enforcement."
Sally Harrison, director of the rental assistance and homeless solutions division of MSHDA, said subsidies for 40 households will be made available to Camp Take Notice residents and the program will be available for one year. She clarified that a "household" could be single- or multiple-person living arrangement. The cap for the subsidy - based on the standard of living in the dwelling's location as well as other factors such as how many people reside in the unit - in Ann Arbor is roughly $750 for a single bedroom apartment and around $950 for a two-bedroom.
"Homelessness ends with a place to live," Harrison said in a press release. "We look forward to collaborating with all of the key stakeholders to develop long-term solutions for the members of the Camp Take Notice encampment."
Brian Durrance, who is vice president for Michigan Itinerant Shelter System-Interdependent Out of Necessity (MISSION) a non-profit organization that helps support the tent city, last week said 65 people reside at Camp Take Notice. He sees the subsidies as a temporary solution.
"It's unfortunate that we weren't able to work out an agreement to stay because I think we are performing an important service," Durrance said. "My personal opinion is that the money could be better used to purchase a piece of land where we can continue our work...providing a year's worth of housing isn't going to end the homeless program, it's just going to put a dent in it for
Representatives of Camp Take Notice, MSHDA, MDOT, MISSION and other organizations involved with Camp Take Notice met on Tuesday to discuss the programs MSHDA laid out.
"We are grateful the state has stepped up to the plate to assist us in providing safe housing solutions and critical services to the struggling campers currently staying at Camp Take Notice." said Bob Guenzel, chair of the Washtenaw Housing Alliance board in the MSHDA press release.
Harrison said MSHDA is also working with the Salvation Army on building additional shelter beds in the area and to provide possibly displaced individuals with motel vouchers.
Durrance said MISSION will continue to work on finding alternative locations, but that ultimately the organization will support the campers' decision.
"There is a meeting on whether they want to stay or move and MISSION will support the campers either way," Durrance said.
Contact Pete Cunningham at petercunningham@annarbor.com or by phone at 734-623-2561. Follow him on Twitter @petcunningham.