Man erupts in anger as he's sentenced to 22-40 years in prison for drive-by shooting
Posted on Wed, Aug 29, 2012 : 6:25 p.m.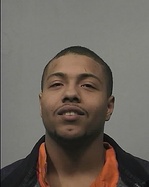 Courtesy of the Washtenaw County Sheriff's Office
A Superior Township man convicted in a drive-by shooting erupted in anger Wednesday and was escorted out of the courtroom while he muttered expletives as Judge Archie Brown sentenced him to between 22 and 40 years in prison.
Midway through the sentencing, Lamarr Frankl Murphy-Ellerson walked away from the lectern and around the defense table toward the door.
Sheriff deputies immediately restrained Murphy-Ellerson and took him to a holding cell. The 21-year-old knocked some items off a desk as he was led out of the room, located on the second floor of the Washtenaw County Trial Court.
Brown finished the sentencing while the convicted shooter was not in the courtroom. Murphy-Ellerson was sentenced to between 20 and 40 years on two counts of assault with intent to murder and two years for felony firearm. Those sentences will run consecutively. He was sentenced to lesser concurrent prison terms on two counts of assault with intent to do bodily harm less than murder, discharging a firearm from a vehicle, discharging a firearm at a building, discharging a firearm from a vehicle and carrying a concealed weapon.
The charges stemmed from a drive-by shooting in December 2011 in the 1500 block of Harry Street in Ypsilanti Township. A 28-year-old man who was standing outside a home was shot in the leg in the incident and was later treated at St. Joseph Mercy Hospital.
The victim appeared in the courtroom Wednesday using a walker he needs due to injuries from the shooting, but he did not want to address the judge. Before the courtroom outburst, Murphy-Ellerson looked into the eyes of the victim and said he didn't shoot him.
It was one of several exclamations of innocence Murphy-Ellerson made during the proceedings.
"I have more respect for human life than to commit a crime like this," he told the court. "There's more evidence (the prosecution) is hiding. They're playing a dirty game. I didn't commit this crime. I had nothing to do with it."
There was a second, female victim who also was involved in the shooting incident, which is why Murphy-Ellerson was charged with two counts of assault with intent to murder. She did not appear in court Wednesday.
Murphy-Ellerson was convicted of all nine counts during a trial in June.
Assistant Washtenaw County Prosecutor Sam Holtz said the male victim, who didn't know Murphy-Ellerson, has suffered physically and mentally since the shooting.
"He was a healthy young man. He was a hardworking young man," Holtz said. "He's been deeply troubled by this."