Ann Arbor's Main Street reopens after gas leak
Posted on Wed, Sep 26, 2012 : 11:46 a.m.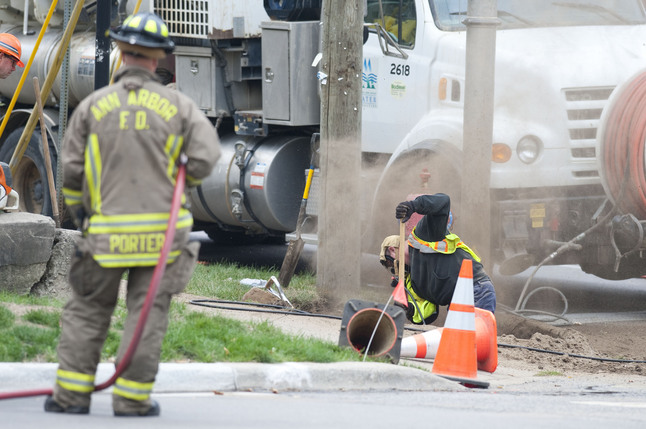 Courtney Sacco | AnnArbor.com
A gas main leak in Ann Arbor led to evacuations and traffic problems Wednesday morning.
North Main Street was closed between Catherine and Felch streets for about an hour around as DTE workers attempted to repair a gas main leak.
By 11:15 a.m., the gas was shut off and the road reopened, though gas crews were expected to still be working in the area which could affect the northbound righthand lane, Ann Arbor police said.
A backhoe ruptured the gas main Wednesday morning, according to officials.
"Water workers were working on the hydrant at Main and Kingsley and hit (it)," said Robert Vogel, battalion chief for the Ann Arbor Fire Department.
The leak caused the fire department to evacuate homes and businesses north of the intersection as DTE workers monitored the air. Other people in the area were told to stay inside.