university record:

Lloyd the coach, meet Lloyd the bird

Posted on Sat, Jul 7, 2012 : 11:18 a.m.
Earlier this spring, four peregrine falcon chicks hatched on the University of Michigan Hospital roof, and they were named for four legendary U-M football coaches: Bo (Schembechler), Fritz (Crisler), Fielding (Yost) and Lloyd (Carr).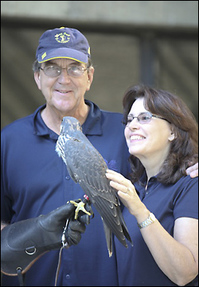 Recently, as the U-M's University Record Update reports, the original Lloyd
got to "meet" his namesake
as the bird was being released back to the nest after a period of rehab.