Legislation sponsored by state Rep. Mark Ouimet would help small businesses secure loans
Posted on Wed, Feb 16, 2011 : 4:30 p.m.
State Rep. Mark Ouimet says Michigan small-business owners and entrepreneurs will have greater access to capital under legislation he's proposing.
"One of the biggest challenges that small-business owners face today is limited access to capital," Ouimet, a former banker, said in a statement. "New business owners and entrepreneurs looking to start a business can't create jobs if they are unable to secure a loan."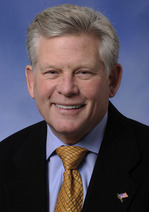 Ouimet, R-Scio Township, is the primary sponsor of House Bill 4020, which was introduced and read for the first time last month.
It since has been referred to the House Committee on Banking and Financial Services for consideration.
The bill would allow the Michigan Economic Development Corp. to offer banks access to a consolidated lending account. Loans up to $750,000 would be offered.
To qualify, the loan must benefit a Michigan business with no more than 250 employees or $6 million in gross annual sales.
Ouimet said the bill would create a more effective version of the existing Capital Access Program, where each bank has its own earmarked reserve.
"It is vitally important to help small businesses because they create 64 percent of all new jobs in Michigan," said Ouimet, who represents western Washtenaw County. "This legislation also helps female entrepreneurs, who now start a large percentage of all new businesses."