Learn more about low-energy living at Sunday's ReSkilling Festival in Ann Arbor
Posted on Sat, Jul 14, 2012 : 4:46 p.m.
Whether you want to learn about organic vegetable gardening, worm composting, extracting and purifying water or about meditation, the ReSkilling Festival on Sunday is offering free classes in those subjects and many more.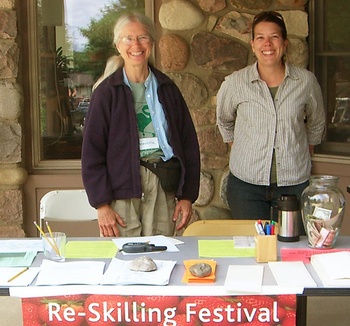 Submitted photo
The festival, which takes place at Rudolf Steiner High School, 2230 Pontiac Trail in Ann Arbor, helps people learn skills for resilient, low-energy living related to what we eat, wear, use and live in. The purpose is to learn to provide for ourselves.
"Beyond helping individuals learn skills, we are committed to building a local network of teachers and learners devoted to low-energy living," said Laura Smith, co-chair of the ReSkilling Festival Organizing Team. "The event is very much about community building."
The festival was started in 2009 by a grassroots group called Transition Ann Arbor and is a concept from the global Transition Towns movement based in the United Kingdom. Smith says that typically 150-250 people attend the ReSkilling Festivals and that includes people of all ages. There is also a childcare co-op with activities for kids all day.
Some courses are back by popular demand including olla (an unglazed pot used for cooking and storage) construction and irrigation, financial philosophy, and work that reconnects. There will also be courses in perspective drawing, sustainable landscapes, and a rap for food writing workshop.
"We will have solar ovens set up in the school yard over the lunch hour for visitors to see different models, taste baked goods and chat with bakers," said Smith.
There is no admittance fee, and advanced registration is not required but people are encouraged to sign up for sessions on line to save a seat in smaller sessions and to let presenters know ahead of time that they have an audience. Doors open at 9:30 a.m. Sunday and the event runs until 5 p.m.