Jeff Daniels to appear on tonight's edition of 'The War Room with Jennifer Granholm'
Posted on Wed, Jun 27, 2012 : 3:49 p.m.
Chelsea native Jeff Daniels, star of new HBO series "The Newsroom," will be appearing live on "The War Room with Jennifer Granholm" tonight.
Daniels, an accomplished Hollywood actor and co-founder of the Purple Rose Theatre Co., is expected to discuss his role on the HBO series and what his feelings and understandings are of the news industry now that he plays a news anchor on TV.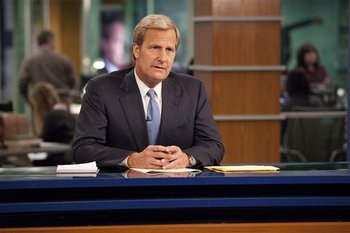 HBO
As a Michigan native and spokesman for Michigan appointed by Granholm during her time as governor, Daniels also is expected to speak to some of the issues affecting the state today.
Daniels grabbed headlines last year when he decried Republican Gov. Rick Snyder's cuts to Michigan's film industry tax incentive program.
"The War Room" airs at 9 p.m. on Current TV with a re-air at midnight.
Daniels recently answered questions from AnnArbor.com about his new HBO series in which he plays a moderate Republican cable newsman named Will McAvoy.