Ypsilanti considers reducing lanes on city streets to keep speed limits lower
Posted on Wed, Jul 18, 2012 : 5:58 a.m.
Ypsilanti officials are considering a "road diet" that would decrease the number of lanes on some city streets - including Washtenaw and North Huron - in a move to allow more residential and on-street parking and bicycle lanes.
The effort also should let the city avoid planned increases in speed limits on those streets, Ypsilanti City Planner Teresa Gillotti told City Council on Tuesday.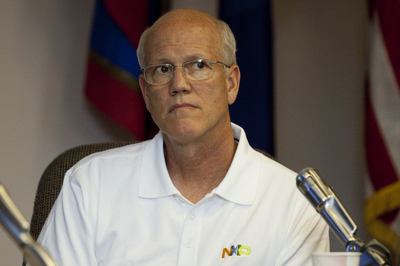 Jeffrey Smith | AnnArbor.com
Gillotti said city staff considered many options regarding how to reduce speed limits, but felt a change in road design was the most viable option.
Gillotti consulted with the Michigan Department of Transportation and The Washtenaw Area Transportation Study on reviewing whether state "trunklines" in the city would qualify for this change.
The city reviewed the best practices to use above treatments to achieve the goal of reduced speeds, the goal being 30 mph, while providing related benefits including additional links for on-street bike lane networks, on-street parking for residential, downtown parking meters and free parking near some local churches.
The following street lanes would be converted:
Washtenaw: From three to two lanes slightly before Ballard Street to Normal Street
North Hamilton: From four to three lanes on Michigan Avenue to Pearl Street
South Hamilton: From four to three lanes on West Michigan Avenue to Ferris Street
South Hamilton: From three to two lanes on Ferris Street to slightly after Buffalo Street
South Hamilton: From four to three lanes slightly after Buffalo Street to Harriet Street
South Huron: From three to two lanes on Ferris Street to Harriet Street
North Huron: From four to three lanes on Cross to Emmet Street
North Huron: From three to two lanes on Emmet Street to Pearl Street
Gillotti said the changes would be achieved by street "striping" and some signs but not by moving curbs. The initial cost estimates range from $60,000 to $70,000.
If implemented, the city would gain an additional 200 parking spaces and a mile of bike lanes.
"Right now we have five miles of bike lanes," Gillotti said. "This would be good for the city."
Mayor Paul Schreiber expressed concern over the costs but Gillotti said the city would seek additional funding partners such as the Ypsilanti Downtown Development Authority and MDOT.
In June, Michigan State Police First Lt. Thad Peterson presented a MDOT study that proposed speed limit increases of as much as 10 miles per hour.
Speed limits are determined jointly by MDOT and the MSP through speed studies that analyze data using a measurement called the "85th percentile" speed, which is the speed at or below 85 percent of vehicles are traveling.
Gillotti believes there could be an issue of safety if the speed limits are increased and decreasing the number of lanes would require MDOT and the MSP to conduct another speed study to analyze and suggest new and potentially lower speed limits.
"Staff went to a MDOT presentation in April and we threw as many questions as possible as we could at them," she said. "We said there are issues of safety so why are we increasing speed limits. Other communities have been trying to fight this through court."
Council Member Mike Bodary questioned whether the city has power to implement changes of this nature and Gillotti said the city must make a formal request to MDOT for the change, and if it meets their standards, they could potentially approve it if the proposed daily traffic count falls under 15,000.
"If it's under that, you can go down to two lanes," she said. "If traffic counts range between 15,000 and 20,000, it's up for debate but in those cases we're still going to try to do that."
Council Member Pete Murdock, referencing the controversial four to three lane conversion of Jackson Avenue in Ann Arbor, said the city was able to move forward with the conversion plan despite traffic counts being more than 15,000.
Gillotti said when she presents the plan to MDOT, she plans to use that as part of the argument to move forward with the diet.
If council deems the lane conversions "viable," it will submit a formal request to MDOT to implement the changes.
Before the project moves forward, Schreiber suggested a public forum take place to receive feedback from residents.
Read the "Road Diet" presentation to council here.
Katrease Stafford covers the city of Ypsilanti for AnnArbor.com. Reach her at 734-623-2548 or KatreaseStafford@annarbor.com. You can also follow her on Twitter.