With poll:

Plans in works to connect Ann Arbor and Saline by biking, walking trail

Posted on Mon, Mar 15, 2010 : 6:02 a.m.
A paved bicycle and walking trail that will nearly connect Saline to Ann Arbor could be under construction sometime later this year, following funding approval from a Washtenaw County board.
The trail would span a nearly two-and-a-half mile route along Lohr and Textile roads and would also connect adjacent residential neighborhoods to Teft Park and the Saline Community Recreation Center, according to the county.
It would be a 10-foot wide asphalt trail, similar to a portion that was installed last year along the east side of Platt, Ellsworth and Textile roads.
The Washtenaw County Parks and Recreation Commission agreed to spend $300,000 in funding toward the construction of the trail, as part of its Connecting Communities Program.
Pittsfield Township Supervisor Mandy Grewal said the township has already been working on improving trails and sidewalks, particularly with the completion of the portion of greenway on Platt Road.
Grewal said the idea to create a similar paved trail for walking and biking began last fall, a few months after a bicyclist riding north on Maple Road was struck and killed by a van traveling in the same direction.
"When that happened, it sparked an idea in my mind that, while we wouldn't be able to do something like this on Maple Road, this just seemed like a natural fit," Grewal said.
The township estimated in its proposal to the county that the project would cost in excess of $1 million. The township is still working out the final cost of the project, when it would begin construction and how long it would take to complete, Grewal said. The township is still awaiting word from some funding sources to determine how much of a funding commitment the township may make, she said.
"I think that this will get the ball rolling on this," Grewal said.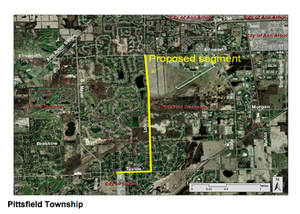 Larry Deck, a board member of the Washtenaw Biking and Walking Coalition, said creating a connective path between Saline and Ann Arbor as part of a regionwide network has been a priority for the coalition. He also said local government agencies see it as a priority as part of county transportation plans.
However, creating a safe route for bikers and walkers to cross I-94 along the south side of Ann Arbor - another project also being explored within the county - would be necessary to truly create a safe connection between Saline and Ann Arbor, Deck said.
"There needs to be a balance between cars, transit and, biking and walking. In the past, there's been a tendency to ... neglect biking and walking," Deck said. "We considered it a priority before the man died (on Maple Road), but certainly when something like that happens, it raises awareness of the problem."
The Connecting Communities Initiative made $3 million available between 2010 and 2014, or $600,000 annually, for projects that would create non-motorized connections between communities within the county.
Also approved for funding was a proposal in Ypsilanti Township to construct the first phase of a half-mile trail along Textile to connect a future portion of the border-to-border trail at Bridge Road to an existing trail at Huron River Drive, according to the county. The township received a commitment of $100,000 toward that construction.
Chelsea received a commitment of $80,000 toward the construction of a 950-foot trail segment along US-12 to connect a trail system at Pierce Lake Golf Course with adjacent neighborhoods, schools and a commercial district. 
Northfield Township received a commitment of $120,000 toward construction of a portion of a project to connect Whitmore Lake Elementary School to neighborhoods along Barker Road.
The projects will be eligible to receive funding once a contract for project construction has been executed by the municipality. The funding expires if a contract hasn't been executed within two years of the approval, according to the county.
The construction of the trails is within the goals laid out by voters when they supported a parks millage and could make a big impact on recreation, said Kristin Judge, a county commissioner.
"What it really ends up doing is making this a vibrant community," Judge said. 
Trails offer opportunities for community connectivity and more recreation, which help make for cooler cities for young professionals and companies to locate in, she said. 
"Bottom line is it comes down to economic development," she said.
Surveys of county residents about priorities for parks and recreation funds showed overwhelming support for creating more trails, said Robert Tetens, Washtenaw County director of Parks and Recreation. He pointed to the Pittsfield Township project as a good example of the goals for the Connecting Communities program.
"(Bike) riding in a lane of traffic is dangerous. Traveling in a bike lane is less dangerous," Tetens said. 
Creating a completely separate trail provides a safer option for non-motorized transportation that appeals to a variety of uses, including commuting and recreation for families, he said.
"The more of a trail network we create, the more convinced I am (country residents) will use it," he said.