Humane society seeks donations as number of neglected horses grows
Posted on Tue, Oct 2, 2012 : 5:56 a.m.
It's been a rough year for horses in Washtenaw County. The Humane Society of Huron Valley has seen the number of horses and other farm animals abused and neglected on the rise.
Rising hay prices are at least partially to blame, said Matt Schaecher, director of animal cruelty investigation and rescue for the organization. Because of this summer's drought, hay prices have risen to $9 or $10 per bale from $4 to $5 per bale, Schaecher said, making if difficult for many horse owners to provide for their animals.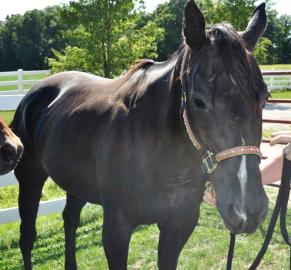 Humane Society of Huron Valley
To help care for animals seized and surrendered and to assist those who can't provide for their own animals, the humane society has created a farm animal aid fund and is seeking donations.
"Horse cruelty is certainly not new," Schaecher said in a news release. "But the number of investigations related to neglect and abuse of horses and other farm animals has been on the rise since 2011. It's important that we do everything we can to help animals in immediate need and to assist struggling owners who will need help getting through the winter."
Schaecher said many hay farmers only got one cutting of their fields this year when usually they would get at least two. That has limited the supply of hay and driven up the price.
Also, some people who normally pasture their horses in the summer had to feed some of their winter supply of hay because of the drought. If they run short of hay during winter buying more likely will be very expensive, he said.
"Our fear is that we are going to be faced with a lot of calls from people saying 'I can't care for my animal," Schaecher said.
That's where the aid fund comes in. The humane society would like to buy a quantity of hay to have available to care for rescue animals and to provide to people who can't afford to buy hay for their animals, Schaecher said.
The humane society's own need is great, officials of the organization said. Schaecher estimated HSHV is caring for about a dozen animals seized from or surrendered by owners who can't take care of them.
Among those animals are three horses the organization has put up for adoption. They were seized in malnourished condition in July at a horse-boarding facility in Salem Township, Schaecher said. It's the same facility from which investigators in December seized 18 animals they said were neglected and malnourished. The facility provides space only, meaning it's up to the animals' owners to care for them.
The humane society is seeking charges against the owners of some of the seized horses.
HSHV board member Susan Kornfield has agreed to match up to $5,000 in donations made to the HSHV Farm Animal Aid Fund by Oct. 15. Visit the humane society's website for more information and to donate.