Hot weather draws crowds, but Memorial Day weekend may bring cooler temps
Posted on Sun, May 20, 2012 : 3:37 p.m.
An early blast of summer-like temperatures and sunny skies this weekend has kept cash registers ringing for many Ann Arbor businesses ahead of the long Memorial Day weekend.
While temperatures are likely to cool off for most of the upcoming holiday weekend, the mercury in Ann Arbor topped off Saturday at 85 degrees and was holding at the same level mid-afternoon Sunday, Accu Weather said.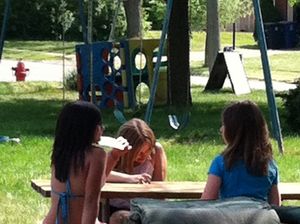 Submitted photo
That's been good news for sellers of things like ice cream or canoe rentals or eateries that offer sidewalk or patio dining.
"It's been fantastic," said Tony Swisher, manager of Washtenaw Dairy. "We're running an ice cream shop here so the warmer it gets, the better it gets for us."
Temperatures were likely to add a few degrees Sunday afternoon, dovetailing perfectly with the typical rush of families who come out for a cone around 7 or 8 p.m., Swisher said.
"Today will probably be the last really warm day, there is a cold front coming through," said Carl Erickson, senior meteorologist with Accu Weather.
The region will see its best chance of rain around daybreak Monday, though any rain is likely to be hit and miss and not widespread, Erickson said. Temperatures should top out in the upper 70s, with midweek highs dipping to the mid-70s.
Rain would help boost precipitation totals, which were 34 percent below normal for the month through Sunday at .74 inches. "We are well below average for rainfall for the month," Erickson said.
Drier than normal weather hasn't hurt business at the city's canoe liveries, which opened a month ago.
"It's fine right now," said Joe Wilhelme, assistant facility supervisor at Gallup Park Canoe Livery. "We haven't had any issues with high water this year. It is higher this time of year than say in August or July, but it's normal."
Gallup Park's livery is running seven days a week, while the Argo Park Canoe Livery will go seven days beginning Saturday. Both will be open on Memorial Day.
The two liveries together rent more than 400 canoes, kayaks, paddleboats and rowboats between them.
"I'd say we rented almost all of them yesterday. Not quite as busy today," Wilhelme said.
The warm weather has also been good for sidewalk and patio dining.
"Our business has been outstanding, we've been packed outside on a wait every night," said Mark Stausbaugh, dining room manager at Gratzi on Main Street, where the 17 sidewalk tables can accommodate 65 people.
Strausbaugh said the downtown streets were busy, and he was expecting another busy evening Sunday, with even the restaurant's inside booked with reservations for 300 people.
Temperatures in the area should climb into the mid-80s again by Thursday and Friday, but another cool front is expected late Friday, dropping highs into the 70s over the holiday weekend, Erickson said. Computer models suggest Memorial Day could see highs again in the 80s, with possible afternoon thunderstorms, he said.
"It's warm now, it'll cool down and warm back up, it's kind of a roller coaster of weather here," Erickson said.
You can stay on top of weather conditions and forecasts by visiting AnnArbor.com's weather page.