Vulgar graffiti on homes shocks neighborhood
Posted on Mon, Aug 20, 2012 : 2:58 p.m.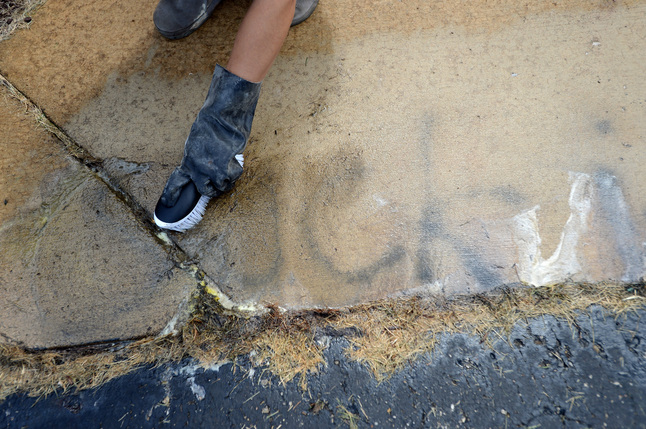 Melanie Maxwell I AnnArbor.com
Previous story: Vandals spray-paint obscenities on homes near Saline
Residents of the upscale neighborhood north of Saline that was vandalized during the weekend still are in shock days after discovering their driveways and walkways had been marked with vulgar graffiti.
A number of luxury homes near the neighborhood, located in both Lodi and Pittsfield townships, had racial and sexual epithets scrawled in spray paint on the driveways. Toilet paper was tossed high up in trees. Paint also was found on a car and garage door.
Many of the messages were derogatory references to women. They also included the slogans "black power" and "end slavery." AnnArbor.com cannot repeat all the words or describe the images due to their vulgarity.
"I think we're all shocked and saddened that the vandalism was so extreme," said Jenna Pruette, secretary for the Brookview Highlands homeowner's association.
Pruette said the homeowner's association is planning a meeting in the wake of the event. They hope to discuss what can be done to avoid similar vandalism in the future including adding more street lighting and security cameras.
The association hopes police will attend the meeting and give them advice.
Sgt. Geoff Fox of the Washtenaw County Sheriff's Office said his type of vandalism is not typical of the area.
"It's very rare in a place like that because of the low crime rates," he said. "It's few and far between."
Police are investigating the possibility of teenagers being responsible. Teens or young adults in their early twenties live at the homes that were targeted.
"That has been noted and is something being looked at," Fox said.
Any charges, which ultimately would be up to prosecutor's, could include the varying degrees of malicious destruction of property. It would depend on the dollar amount of property damaged, Fox said.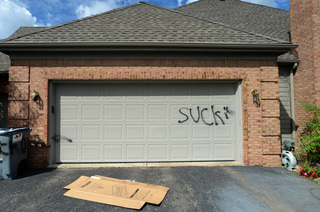 Melanie Maxwell I AnnArbor.com
Because the neighborhood is a jurisdictional island for the sheriff's office with Pittsfield Township's border running through it and Saline to the south, the sheriff's office will be closely working with law enforcement agencies from those places to try and catch the culprits.
"The assumption is you're dealing with some underage (suspects,)" Fox said.
Pruette, who has lived in the neighborhood seven years, agrees.
"I personally think it's teenagers," she said. "I hope they're not from our neighborhood. We're hoping to get some tips."
While Pruette's home near the intersection of Windmill Way and Stoneridge Drive was spared, her neighbor was hit the hardest.
There were a half-dozen vulgar words and images painted in white on the black driveway. The homeowner, who did not want to be identified, said she was shocked to discover the graffiti and the copious amounts of toilet paper wadded up in her trees.
The woman also thought it was the work of teenagers and, even though one of the phrases had a racial element to it, didn't think race was a motivation.
Residents, many of whom did not want to be identified, said many of the houses that were hit had teenagers living there.
"I didn't think it was a racial thing, it's probably just kids thinking they can say these things," the woman said.
The cleanup continued into Monday morning, with other residents in the neighborhood scrubbing graffiti off their walkways and driveways.
"It's upsetting and we hope it doesn't happen again," Pruette said.