Health officials urge people to take West Nile virus precautions during Labor Day weekend
Posted on Sat, Sep 1, 2012 : 5:58 a.m.
As people flock outdoors for picnics and for the last blasts of summer fun this Labor Day weekend, state and local health officials are urging a degree of caution when it comes to this summer's epidemic of West Nile virus.
Although the risks are relatively low that a person will get seriously ill from the virus, older individuals and those with compromised immune systems should take particular care to ward off being bitten by mosquitoes.
As of Friday afternoon, 112 cases and blood donations positive for West Nile virus have been reported in Michigan — five of which were fatal.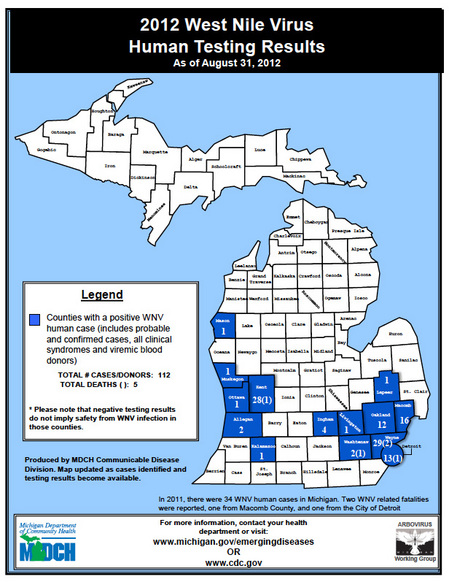 Michigan Department of Community Health
After the
first death in Michigan
from the virus surfaced in
Washtenaw County
in a woman between the ages of 75 to 85 years old, a second case of sickness from West Nile virus was reported soon afterwards.
The count has remained at two confirmed cases of West Nile virus in Washtenaw County as reports of additional cases have rapidly escalated across the state.
People over the age of 50, as well as those who work outdoors in the morning or evening are at a higher risk for West Nile virus.
Health officials recommend everyone reduce their chance of exposure to a mosquito bite by taking the following measures:
Make sure window and door screens aren't broken to keep mosquitoes outside
Empty containers with standing water
When outdoors, apply insect repellent that contains DEET or other approved repellent to exposed skin
Wear long-sleeved shirts and long pants when outside