Detroit Free Press:

Gas prices expected to drop about 20 cents in next week

Posted on Mon, Aug 6, 2012 : 5:01 p.m.
Ann Arbor-area residents feeling pain at the pump from rising gasoline prices should get a little relief soon, the Detroit Free Press reported.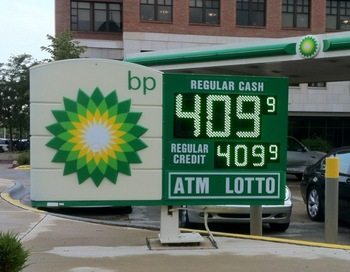 AnnArbor.com photo
The federal government has given Enbridge Energy Partners permission to restart its downed pipeline, and that should ease the pressure on gas prices soon, the newspaper said.
An Enbridge Energy Partners pipeline that transports crude oil from Superior, Wis., to Chicago-area refineries ruptured July 27, spraying about 50,400 gallons of crude into a southern Wisconsin field. That has disrupted the supply of gasoline.
Several stations in the Ann Arbor area were selling gas for more than $4 per gallon Monday, information on the website GasBuddy.com indicated.
The average price for a gallon of unleaded gasoline in Michigan is $3.99, AAA Michigan said. That's an increase of about 39 cents in the past week.
Experts said in Michigan should drop to near $3.80 per gallon in the next week or so, the Free Press reported.
Read the article in the Detroit Free Press.