From its railroad and manufacturing past, Ypsilanti cultivates a promising future
Posted on Wed, Mar 10, 2010 : 2:27 p.m.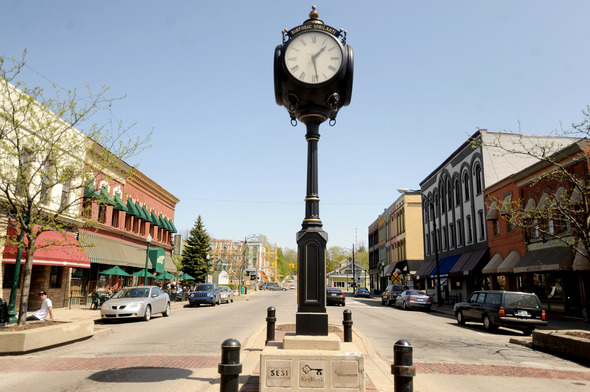 Angela Cesere | AnnArbor.com
Mayor Paul Schreiber likes to say that Ypsilanti is a city in transition from its past as a blue-collar town to its future as a cultural alternative to Ann Arbor. Across Depot Town, through the Michigan Avenue downtown corridor and in the charming neighborhoods surrounding the entertainment districts, change is evident in the new businesses breathing fresh life into the city and a rapidly developing pride.
At the city's north end, the Corner Brewery has emerged as a community focal point, hosting the twice-a-year Shadow Art Fair and serving as gathering spot for the city's diverse population and various Ypsilanti-based groups.
Nearby is Frog Island Park, one of two large, centrally located recreation areas. The other, Riverside Park sees throngs of people from across the region each summer attending its many festivals, including the Michigan Roots Jamboree, Heritage Festival, Elvis Fest and Michigan Brewers Festival.
Next to the parks, historic Depot Town sprung up in the mid-1800s as one of the busiest stops on a new rail line linking Detroit and Chicago. The wood structures built around the commerce center still stand and look like new, and members of a large community of preservationists continue to ensure the buildings will live and thrive.
The Freighthouse, which was the building from which Ypsilanti-made goods once departed to destinations throughout the world, was long utilized as a gathering spot, venue, coffee shop and dance hall throughout the latter half of the last century. It fell into disrepair and closed in 2004, but a group of dedicated residents formed the Friends of the Ypsilanti Freighthouse and the 100-year-old structure is undergoing a restoration.
Overlooking Depot Town from a hill just across River Street is the historic East Side Neighborhood, featuring colorful, wood-framed homes, many of which are designated historic structures. The Normal Park Neighborhood on the city's west side boasts the same type of structures and a strong community spirit.
Live acts of all variety perform on the stages of downtown Ypsilanti's many venues, from smaller local bands at the Dreamland Theater to larger national headliners at the newly opened Savoy. Among the dining options are the new J. Neil's Mongolian Grille and plenty of old favorites, like Haab's or Dalat.
Add to all this, the 22,000 students attending Eastern Michigan University, and you have one of the most culturally and socioeconomically diverse communities in the region. The university, founded in 1849, has grown from its humble beginnings as a teachers' college to now occupy more than 800 acres offer undergraduate, graduate, specialist, doctoral and certificate degrees in more than 200 majors, minors and concentrations.