The Detroit News:

Former assistant AG Andrew Shirvell sues lawyer representing Chris Armstrong

Posted on Mon, Oct 31, 2011 : 9:10 a.m.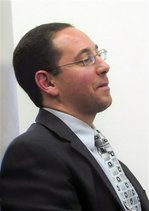 Marissa McClain | The Michigan Daily

Former assistant Michigan Attorney General Andrew Shirvell has sued the lawyer representing the gay University of Michigan student who alleges Shirvell stalked him and harassed him with posts on Facebook and a blog, the Detroit News reported.

The lawsuit was filed Friday in U.S. District Court against Deborah Gordon, the Bloomfield Hills attorney who represents Chris Armstrong, the openly gay former U-M student body president.

Shirvell was fired for using state resources for his campaign against Armstrong and for lying to investigators during his disciplinary hearing, Attorney General Mike Cox said last November.

His lawsuit alleges Gordon interfered with the attorney general's internal investigation and that she made false statements against him, the newspaper reported.