Mlive:

Follow right-to-work developments: Thousands protest as House passes legislation

Posted on Tue, Dec 11, 2012 : 10:29 a.m.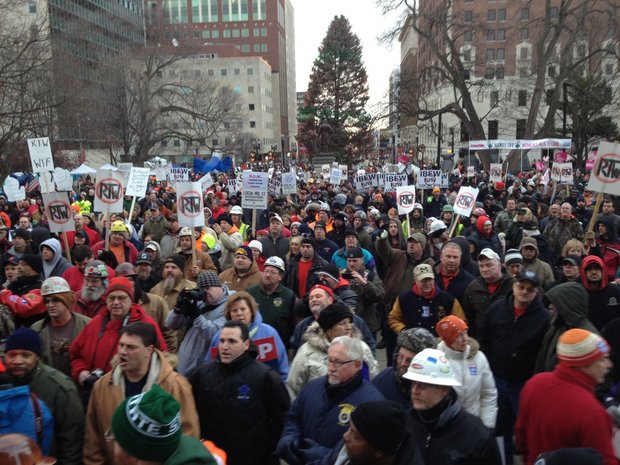 J. Scott Park | MLive Media Group
As up to 10,000 protested outside the Capitol in Lansing, the Republican-led House of Representatives passed one right-to-work bill and were poised to pass a second Tuesday morning, MLive reported. The House made dues payments optional for members of most public-sector unions. A second vote doing the same for private-sector workers was to follow quickly.
By 10:30 a.m., the agency which manages the Capitol estimated more than 10,000 demonstrators had gathered outside, MLive reported. Michigan State Police limited access to the building around 10 a.m. because it had reached its capacity of roughly 2,000 people.
Gov. Rick Snyder has said he would sign the legislation, though Democratic leaders from Michigan pleaded with him not to, and Snyder said he would consider their arguments.