First snow of the season in Ann Arbor causes havoc; I-94 closed due to crashes
Posted on Wed, Dec 1, 2010 : 10:26 a.m.
Washtenaw County police are responding to six traffic crashes on area freeways as the first snow of the season takes its toll on the morning commute.
The entrance ramp to I-94 westbound at Jackson Road on Ann Arbor's west side was closed shortly after 10 a.m. because the bridge there was reported to be a sheet of ice, officials said. And two lanes are closed on westbound M-14 at Main Street, dispatchers said at 10:30 a.m.
Police were responding to crashes at 10:15 a.m. at westbound M-14 near Main Street, eastbound I-94 near Jackson Road, southbound US-23 to eastbound M-14, westbound I-94 and US-23, and southbound US-23 north of I-94. Police officials attributed the accidents to the weather.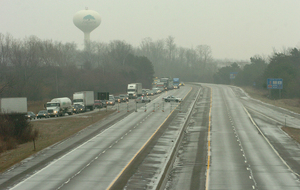 File photo
Jim Harmon, director of operations for the Washtenaw County Road Commission, said all 46 of the department's salt trucks are out on their normal routes this morning. He said crashes aren't unusual during the first snow of the year as drivers are reminded what winter driving is like.
"Folks have a hard time reducing their speed according to the conditions," he said. "We get minor crashes and rear end crashes. Motorists, after the first snow, quickly adjust to the realities of winter driving."
An alert from the National Weather Service's Detroit office said rain from yesterday froze, creating some slippery spots for drivers.
Dave Kook, a meteorologist for the weather service, said radar shows the intensity of the snow already decreasing west of Ann Arbor, which means relief should be coming soon.
"It shouldn't last much more than another hour at these rates," he said. "Having said that, the rest of the day, you're only looking at another one- to-two tenths of an inch. After this burst it should be just flurries."