EMU union overwhelmingly votes down contract, puts message in sky: 'President Martin unfair to clericals'
Posted on Wed, Jul 11, 2012 : 5:57 a.m.
Feeling they weren't being heard at the negotiating table, the leaders of the Eastern Michigan University clerical union sent a message Tuesday university administrators could not ignore.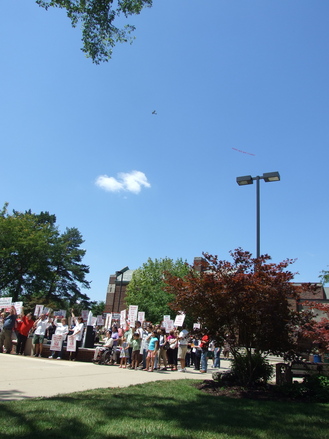 Kellie Woodhouse | AnnArbor.com
It came in the form of a plane circling above the Ypsilanti campus for at least a half hour at noon, a banner flicking in the wind behind it: 'President Martin unfair to clericals."
As the fifth month of contract negotiations drags on, union leaders organized the plane in a last-ditch effort to make it clear the clericals are dissatisfied with the results.
In the hours that followed the spectacle, the 300-plus member clerical union voted on whether to approve the university's latest offer.
The offer includes a 0-1-2 percent raise scale over three years, health care options that shift some cost to employees —causing workers with families to pay as much as $5,000 a year in health care costs, depending on services sought— and the promise of a 12 percent health care premium increase over the next three years and a $1,250 lump sum payment to employees to mitigate rising costs.
Five members voted for the contract, 182 members voted against it. The union now moves to a 60-day fact-finding process, during which a mediator will make a non-binding suggestion to both parties.
After fact-finding, the university can offer an unchanged, or modified, agreement and the union must accept. Union leaders say whatever the outcome, they will not strike because it is against the law and they fear the large fines that would be imposed.
The main issue of contention is health care offerings. Many clericals —88 percent according to the union— are under health care plans that include no, or low, deductibles or co-insurance rates.
According to a AAUP analysis, under the new plan if a family of four maxes out its required deductibles and co-insurance caps the employee can expect to pay about $3,000 more in health insurance costs a year in 2013. A single individual can expect to pay about $1,000 more.
EMU says it must raise clericals' health care costs to keep up with inflation.
"Health care costs continue to increase for everyone across the nation, this is not an issue singular to Eastern Michigan University. Consistent with national trends, Eastern's health care costs are projected to increase by 8.5 percent annually," EMU spokesman Geoff Larcom said.
Larcom said the university is seeking a "fair and competitive agreement." Other universities, including the University of Michigan, have also shifted a higher level of health care costs to employees in recent years.
"Funding health care increases without further sharing of costs ... will impact the level of resources available for academics and student success," he added, "and also limit our ability to offer future pay increases and salary growth for employees."
Clerical union President Karen Hanson said that with some employees with families and medical issues, the new contract could possibly result in a severe decrease in take-home pay.
She said the average clerical worker's base salary is $34,000, although they make between $27,000 and about $40,000.
"We have a lot of head of households, they can't afford this," she said. "They will now have to choose between taking their child to the doctor and paying these big out-of-pocket co-pays or buying food. It's coming down to that issue for some of these clericals."
One clerical worker, Erica, said that if the contract remains unchanged she will begin looking for a new job. Erica, who declined to give her last name, said the cost to ensure herself and her four children would grow significantly.
"My kids have asthma," the single mother said. Another clerical with an unhealthy husband said through tears that she feared increased costs, but declined to give her name.
Mike Shumaker, an EMU library clerical worker and lead negotiator for the union, says that administrators have been unwavering in negotiations.
"It's been contentious. ... We've made several proposals to the university, most of which, they didn't counter. They just said 'we're saying no to this proposal,' " he said. "The first health care plan they proposed to us is the health care plan we voted for today because we never changed it once. No negotiating."
The union was able to negotiate higher raises. The school originally offered no raises during the course of the three year contract, instead of the existing 0-1-2 percent scale.
"We're already the lowest paid bargaining unit, we have the lowest contribution to our retirement and they're asking us to take a pay cut," Shumaker said.
"People are waiting to see how this all plays out."