EMU tries to entice children of non-resident alumni by offering them in-state tuition
Posted on Tue, Jun 19, 2012 : 2:22 p.m.
In an effort to boost enrollment, Eastern Michigan University is launching a new program encouraging alumni that have moved away from Michigan to send their children to EMU at the in-state rate.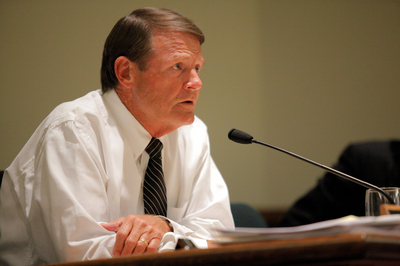 The
"Come Home to Eastern, Come Home to Michigan!"
plan is part of a newly established program to increase enrollment at EMU. Alumni may also partake in the program. Last year, enrollment by credit hours decreased 1.4 percent, despite a 1.7 percent projected increase.
This year the school projects a 1 percent enrollment increase.
"Our goal is to get this 1 percent or more," Regent Mike Morris said to EMU admissions staff during a Board of Regents committee meeting. "So we encourage you all to step up."
The new alumni program is accompanied by a reboot of EMU admissions office practices in an effort to become more responsive to applicants and a marketing campaign directed at attracting international students to EMU's online course offerings.
The school also is considering a switch to the Common Application. When U-M switched to the Common Application for entry into the 2011-12 freshman class, the school received a record-high number of applications.
Despite wanting to increase enrollment, EMU raised undergraduate application fees by 75 percent, bring the fee to $35.
"We welcome our alumni and their children back home to Michigan and to Eastern," EMU President Susan Martin said when introducing the new program at the regents meeting Tuesday.
Martin said EMU plans to strengthen its relationship with community colleges. Roughly 50 percent of students who enroll at EMU are transfers, according to EMU Provost Kim Schatzel.
"We need to be able to extend the work we've done in that area and to be innovative and a bit more creative," Schatzel said, adding that EMU wants to be "recognized as a university that embraces online."
Between 17 percent and 19 percent of EMU classes are currently offered online, Schatzel said.
The new programs were established to remedy decreasing enrollment. Schatzel said that prior to her joining the university this year, the admissions office didn't adequately respond to students and send acceptance letters in a timely manner. One of her goals as provost, she said in an earlier interview with AnnArbor.com, is to streamline the admissions process.
"One of the areas that I spent a lot of time with is taking a look at the application management system we have in place," she said Tuesday.
Said Regent Francine Parker: "We're actually going to put things in place that people have been complaining about for many years."