EMU nearing completion on $1.8 million Hoyt Hall renovation project
Posted on Mon, Jul 9, 2012 : 5:57 a.m.
Eastern Michigan University is nearing completion on its $1.8 million renovation of one of its residence halls, Hoyt Hall.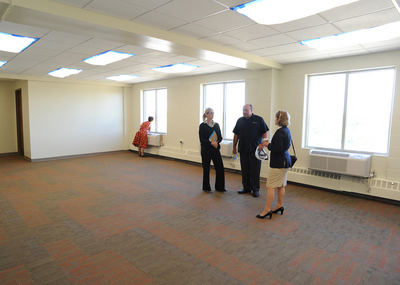 Courtesy EMU communications
Brian Fitzgerald
, associate director for residential services, said the project began in May.
Hoyt had been used for "swing space" by faculty members and staff during the renovation period of the university's largest classroom building, Pray-Harrold. The $42 million project of the 42-year-old building took 16 months to complete.
Since fiscal year 2009, EMU has spent nearly $19.5 million on energy efficient residence hall renovations that were funded through the auxiliary capital spending budget, which is paid for through housing and dining fees.
The plan included new windows in the four first-year residence halls and upgrades to the three hill area residence halls— Pittman, Hill and Hoyt— and new windows in the Brown-Munson apartment complex.
Hill Hall received similar upgrades in 2008 that cost nearly $1.8 million, and Pittman was renovated in 2010.
University officials are expecting nearly 3,500 students to live in the university's residence halls and apartments for the 2012-13 academic year.
"We're tracking 300 contracts above last year," Fitzgerald said.
As part of a three-year plan, EMU President Susan Martin and the Board of Regents decided to improve the university's room and board offerings.
Changes include:
New millwork (cabinetry)
New furniture
Beds upgraded to full size for half of the building
Half of the rooms will have new bunkable twin beds
Lobby upgrade
Ground floor kitchenette upgrade
Provision of offices for Living Learning and Theme Community staffing
Painting
Fitzgerald said the changes were needed since some of the furniture dated back 20 years. The cost of upgrading the furniture in the building made up a large chunk of the $1.8 million total.
"It's something we needed to do," he said.
Furniture is being delivered in July and setting up might take a bit of time.
"We expect to be substantially complete by July and ready to go by August," he said.
The main change students and parents will notice is the conversion of beds in half of the building from twin to full-size. Hoyt also will have lower-cost options available for students. In the other half of the building, the rooms will have bunkable twin beds.
Fitzgerald expects the 10-floor residence hall to have between 330 to 350 student occupants for the fall semester beginning Sept. 5.
A single room occupancy in Hoyt will cost students $5,684 per academic year and a double will cost $3,520.
In April, the EMU Board of Regents approved an overall increase of 4.95 percent for residence hall and apartment room-and-board rates for 2012-13 at its regular meeting April 17.
With approval by the Board of Regents, planned projects for the next five years may include a projected $8.8 million in repairs that will involve renovations to Best, Wise, Buell and Downing residence halls, the Dining Commons that connects those four halls, to Westview Apartments and to the Eastern Eateries.
Katrease Stafford covers the city of Ypsilanti for AnnArbor.com. Reach her at KatreaseStafford@annarbor.com. You can also follow her on Twitter.