Willow Run 2012 graduate's story airs on Detroit Public Television today as part of national program
Posted on Sat, Jun 23, 2012 : 8:42 a.m.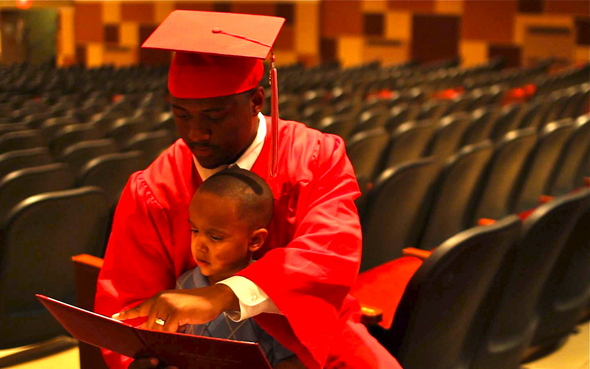 From Kristin Priest

At 17 years old, Trimaine Walker of Ypsilanti was married with a newborn son and dropped out of high school in an effort to support his family.

Now, at 22, Walker has graduated from Willow Run Community Schools, is training to be a minister through his church, is registering for classes at Washtenaw Community College and is focused on moving forward, not back.

Walker's journey will be one of four student success stories shared on Detroit Public Television (DPTV) Saturday as part of a national program, developed by the Corporation for Public Broadcasting (CPB), called "American Graduate: Let's Make It Happen."

American Graduate is a public media initiative to help students stay on the path to graduation, according to its website. The CPB reports 1.3 million teens drop out of high school annually, costing the nation more than $100 billion in lost wages and taxes, plus the increased social costs of crime and healthcare.

"Experts estimate American businesses are in need of 97 million middle- and high-skill workers, yet just 45 million Americans possess the necessary education … to qualify for these positions," the CPB website states.

Trimaine Walker and his wife, Sarah, got married when they were 17 and 16, respectively. When Sarah gave birth to their oldest son, Jamare, now almost 5, Trimaine dropped out of school to find a job that would allow him to provide for his young bride and son.

He went back to Willow Run High School in 2009, he said, but dropped out again a shortly thereafter. Sarah also dropped out.

"I wanted to make money for our family, and she was trying to take care of kids," Trimaine said. "But I realize that that was an excuse. I was making it an excuse. A lot of kids that have babies, they think they have to drop out of school, but now I believe it's possible to do both."

He explained having a baby and getting married so young was difficult. Before Sarah, Trimaine never really had a girlfriend, he said.

A little more than two years ago, Walker became active with his church, the Greater Faith Transition Center in Ypsilanti. He was saved and baptized in the Christian faith.

"Just because you're baptized, don't mean you're gonna change… You've got to go forward, not back, and take, really, responsibility for your life," he said.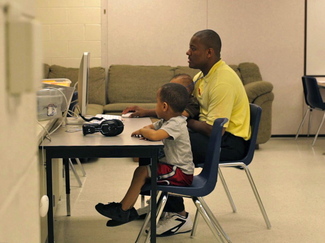 From Kristin Priest
"A lot of people say they see me getting better and progressing. They've been seeing the change in my life. And I choose to change."
Going backward for Walker would mean being rude to his family and not treating his wife respectfully, he said.
"At the time, I didn't know what marriage was… I did drugs, I was self-seeking — I was just all about myself, really. I did what I wanted and used my family as an excuse for my behavior… That would be going back."
Around this time in his life, Walker also started to realize that without a high school diploma, he only could find temporary work making minimum wage at best.
In 2010, when the Widening Advancements for Youth non-profit organization opened WAY Washtenaw, a mostly online alternative program for at-risk students or those in need of credit recovery, the group was given a list of county dropouts, and Sarah's name was on the list.
Sarah told her husband about the program and thought it might be a good fit for their lifestyle, Trimaine Walker said.
Sean Fountain, a WAY Washtenaw team leader, said the Walkers became two of the program's first students. Fountain said Trimaine was especially "refreshing" to work with as by the time he got to WAY, he recognized the opportunity he had been given to earn his high school diploma on his own terms.
"He began to take advantage of it immediately in his areas of strength," Fountain said. "He picked up his language arts credits pretty early on. Trimaine likes to speak and to analyze things. How to best use the (WAY) system and how to get access to adults for help when was convenient for his life came eventually.
"The one thing about Trimaine is he really takes his role as a parent seriously and really understands that how he conducts himself will be reflected in his kids."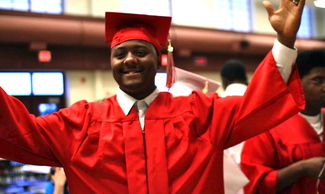 From Kristin Priest
Fountain said while he did not know Trimaine when Trimaine had strayed off the right path, he believes Trimaine will be successful in life.
"I think he has done a good job of building his network of support… And if for no other reason, he came to realize that he needed to take responsibility for his own life. And that part his so evident in him, that he will make it," Fountain said, adding that although Trimaine never talked to Fountain about those things he thought were mistakes, Fountain never thought it was because he was ashamed or was hiding them from his teacher.
"I really always felt it was because he was done with that, he had learned those lessons and moved on. His focus since I've known him has always been forward, on what's next."
Trimaine and Sarah Walker graduated together on June 1 from Willow Run High School, with their two sons, Jamare and 9-month-old Isaac, and other loved ones there to celebrate.
Trimaine Walker said he and his wife could not be happier, are working together and are committed to their relationship more than ever before, having completed this goal side-by-side. Trimaine also recently got a steady security job.
Both Trimaine and Sarah plan to attend WCC in the fall. Sarah intends to study law enforcement to be a police officer and Trimaine would like to become a certified nursing assistant.
"I feel in my heart God wanting me to do that," he said. "I enjoy helping other people spiritually, mentally and physically — it doesn't matter the age."
The program on Trimaine Walker will air from 6 to 7 p.m. Saturday on DPTV and will be live-streamed at www.miamericangraduate.org. The show will repeat from 7 to 8 p.m. on Saturday and be replayed from 1 to 2 p.m. on Sunday.
Staff reporter Danielle Arndt covers K-12 education for AnnArbor.com. Follow her on Twitter @DanielleArndt or email her at daniellearndt@annarbor.com.