U-M study: High school sports participation lowers major crime, suspension rates
Posted on Mon, Sep 10, 2012 : 2:05 p.m.
Increased opportunities for sports participation could help high schools reduce the number of major crimes and suspensions on campus.
A new University of Michigan study shows a correlation between high school sports and a school's crime statistics.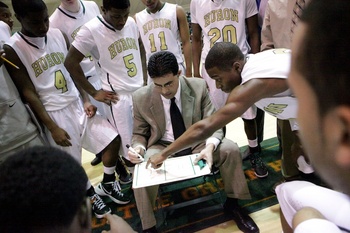 AnnArbor.com file photo
Research indicates that when high schools have strong participation rates in athletics, they have lower levels of major crime and fewer suspensions.
The U-M study revealed no connection between sports and minor violations, such as property crimes, possession or distribution of illegal substances, or possession of a weapon at school, however.
The crimes that participation in athletics appeared to help curtail were attempted rape and violent behaviors, among others, the study said.
Researchers sampled nearly 1,200 public high schools to determine the relationship between sports participation rates and in-school delinquent behaviors. They controlled for a host of school characteristics, such as location and student-teacher ratios, according to a media release.
The average total crime rates among the researched high schools during the 2003-04 and 2005-06 school years were .039 and .042, respectively, according to the study. In other words, about 4 percent of the student population was involved in a crime during these academic school years, the media release shared.
For serious crimes, the rate was 1.6 percent during the same periods, while it was about 2.4 percent for minor crimes. The suspension rate was about 2.2 percent. The sports participation rate was 39.8 percent in 2003-04 and 42.4 percent in 2005-06.
So if the schools' athletics participation rates increased by 10 percent, serious crime incidence rates would drop by .05 percent and suspension rates dip by 0.1 percent, said Philip Veliz, a postdoctoral fellow at U-M's Substance Abuse Research Center and the study's lead author.
More about the U-M study can be found here, in the current issue of "Sociological Spectrum."