Superintendent: Textbook salesman represented himself as Lincoln Schools employee
Posted on Fri, Jul 20, 2012 : 3:25 p.m.
A textbook salesman who has been representing himself as an employee of Lincoln Consolidated Schools has been asked to stop, said Superintendent Ellen Bonter.
School officials fielded several phone calls Thursday afternoon from parents concerned about a man they said was knocking on their doors to "discuss their children," Bonter said. The man then transitioned into trying to sell the family textbooks and other curriculum-related materials, Bonter said.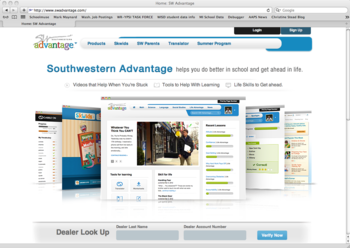 The district contacted police and issued a warning to district residents via its website. Bonter reported Friday that police detectives had identified the man as a salesperson representing a company called
Southwestern Advantage
.
"It turned out to be nothing about nothing," said Sgt. Geoffrey Fox with the Washtenaw County Sheriff's Office. "He was a legitimate salesman for a legitimate business. ... It was a misunderstanding and has since been clarified."
"The man did have a permit to solicit in Ypsilanti Township, police told us," Bonter said. "But he was indeed making people believe he was connected to Lincoln schools and used the tactic of using other parents' and students' names whose houses he also visited, claiming they purchased materials from him."
School officials posted an update on the district's website Friday afternoon stating: "Lincoln Consolidated Schools does not endorse, nor support, this company or these materials in any way." District officials encouraged families to contact the administration office, at (734) 484-7001, if a salesperson comes to their door representing himself as being connected to the district.
Bonter thanked local residents for alerting the district to the situation and the Michigan State Police for acting quickly to get it resolved.
"One of the homes was visited when a child was home alone," Bonter said. "The support from both our local sheriff's department and the state police was outstanding. Obviously, we didn't want anyone to panic about the situation. But in this day and age, we wanted to err on the side of caution and be vigilant about getting the issue resolved, because you never know what people's intentions may be when you hear something like this."
Staff reporter Danielle Arndt covers K-12 education for AnnArbor.com. Follow her on Twitter @DanielleArndt or email her at daniellearndt@annarbor.com.