Detroit Free Press:

Marcus Buggs surpasses hardship to earn high school diploma, prepare for college

Posted on Thu, Jun 7, 2012 : 1:56 p.m.
Marcus Buggs, the Roberto Clemente Student Development Center senior who watched his uncle murder his father at 9 years old, has achieved what he never dreamed possible: a high school diploma.
The Detroit Free Press began following Buggs' unique journey in January of this year and watched as the Ann Arbor student crossed the stage at Eastern Michigan University's Convocation Center Wednesday night and clasped that long-coveted diploma in his hand.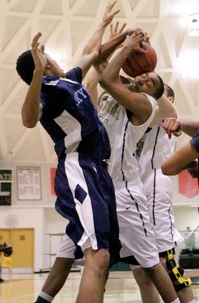 Chris Asadian | AnnArbor.com
Buggs was accepted into
Western Michigan University
and celebrated his graduation from
Huron High School
with his mother, who recently was released from prison. She had been incarcerated since 2010.
Buggs has spoken passionately about his Roberto Clemente experience and mentor, Principal Ben Edmonson, in the Detroit Free Press' profiles throughout the past six months and recently at Ann Arbor Public Schools Board of Education meetings.
The AAPS board toyed with closing the school that Buggs credits with saving his life because of financial constraints.
"I would be dead or in jail if it weren't for Roberto Clemente," Buggs said at an April board meeting. "I say that twice, once so you can understand how devastating it would have been for me to be a statistic, and once for myself because I need to know I am past it."
Read the complete Free Press story on Buggs' graduation.
Read AnnArbor.com's coverage of Roberto students fighting for their school.
Staff reporter Danielle Arndt covers K-12 education for AnnArbor.com. Follow her on Twitter @DanielleArndt or email her at daniellearndt@annarbor.com.