Ann Arbor students receive honorable mention in NASA space settlement design contest
Posted on Sat, Jul 7, 2012 : 5:58 a.m.
From Cheryl Quinn

While some kids their age were playing outside or seeing a movie on a Friday night, four Ann Arbor middle school students were busy designing an orbiting space colony that could sustain up to 10,000 people.

Throughout the course of seven months, eighth-graders William Brighton, Laria Reynolds and Alexander Quinn, and seventh-grader Matthew Koziol wrote a 54-page proposal, rich with 3-D sketches and ideas for blocking neutron and gamma radiation from the sun.

The quartet of young scholars from Honey Creek Community School, an Ann Arbor charter school with a population of about 240, entered NASA's Space Settlement Contest to challenge themselves and earned "Honorable Mention" alongside teams from New York, India and Romania.

The group worked every Friday for three to four hours. And when January came, they added another two to three hours during the week and usually one eight-hour day on the weekend, prior to submitting their proposal by the March deadline.

The group and their parents also were asked to participate in the International Space Development Conference (ISDC) in Washington, D.C., where they created a large-scale poster outlining the details of their space colony, dubbed the Phoenix Eclipse Space Settlement, and gave mini presentations to other students in grades six through 12, business professionals and NASA engineers.

After receiving their Honorable Mention Award at the conference, the Ann Arbor students were invited to the office of Congressman Tim Walberg, R-Michigan, for a Capitol tour.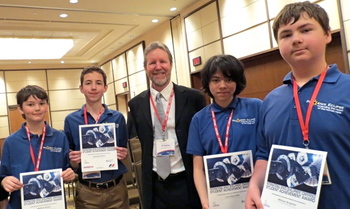 From Cheryl Quinn
The ISDC is an annual event that covers several broad areas of study related to constructing a spacefaring civilization, according to its
website
. Transportation to and through space, the technology needed to live and work in space and Earth-based activities to advocate for or educate others about space development are among the topics of discussion at the conference, the website
says
.
The Honey Creek students also had to consider all aspects of sustaining life in space when designing their settlement and writing their proposal, said Cheryl Quinn, mother to Alexander Quinn, who oversaw the students' project.
"The engineering of it, the physics behind how do you actually get this thing into orbit, the living in space aspect, what government would you put in place on it, what does it look like — everything," Cheryl Quinn said. "There was also an agricultural component. The kids studied hydroponics and artificial lights and how to feed these people (in the space colony). They had to think about transportation to and from the space station and communications.
"NASA doesn't even have it all figured out yet, so it was inspiring to see what these kids can come up with that people in the field didn't even think of."
Alexander said the biggest challenge of the project was coming up with a method for effectively protecting the space station from solar radiation.
"Radiation is a pretty bad thing here on Earth and yet we have the Earth's atmosphere and magnetic field to protect us," Alexander said. "In space, there isn't anything like that and, especially over long periods of time, it can be really harmful."
The plan the students came up with was using denser materials, such as tungsten and lead, to protect against gamma radiation and "slowing down" neutron radiation with boron and polyethylene, Alexander said, adding the group did a significant amount of research and had about two pages of citations in their proposal.
But, "this stuff" — space exploration, sustaining life in space and chemical properties — is not foreign to Alexander.
"I like to read. A lot," the eighth-grader said with a chuckle.
Right now, he is reading "The Elegant Universe" by Brian Greene, which is about string theory, relativity and quantum mechanics, Alexander said. "It's a pretty good read."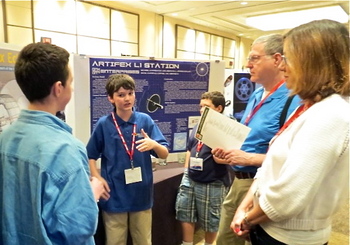 From Cheryl Quinn
Alexander said aside from learning that boron and polyethylene
can block solar radiation
, he learned that "writing a long paper about a space station is hard" and "always putting out there what you know and giving your opinion about things is good to do."
He said you never know who is learning from you and what ideas may stick unless you are willing to take the risk.
There were about 40 teams that attended the International Space Development Conference in Washington, D.C., Cheryl Quinn said, most of the teams were from India, China, Singapore, Turkey and other countries across the world.
"The students compared notes and had debates. It was really great. … We were all really proud of them," Quinn said. "It was inspiring for our kids to see these kids that came from all over the world, and showed (our students) they better be sharp on their toes because these (international) kids were very good with English and had very good ideas."
The Honey Creek group entered a similar NASA contest last year, called the Waste Limitation Management and Recycling Design Challenge. They received an Honorable Mention Award in this contest as well. The challenge, which was for grades five through eight, involved constructing a working model of a water recycling system that could be used in space.
Staff reporter Danielle Arndt covers K-12 education for AnnArbor.com. Follow her on Twitter @DanielleArndt or email her at daniellearndt@annarbor.com.