Eastern Michigan University dipped into reserves by $2M last year
Posted on Tue, Sep 18, 2012 : 2 p.m.
Eastern Michigan University dipped into its reserves by $2 million last year to cover a shortfall in enrollment and investment income.
The Ypsilanti school originally projected the shortfall to reach $5.6 million, but administrators and colleges trimmed costs —using attrition, reining in travel and supply expenses, and cutting certain initiatives— by $3.6 million, closing the gap but not eliminating it.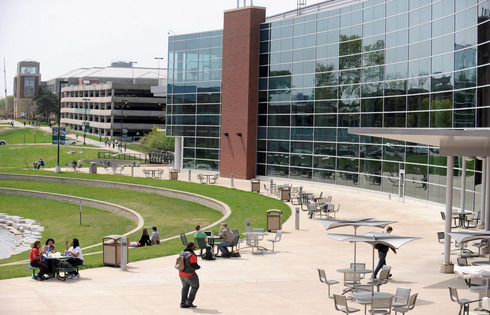 File photo
Using reserves is "something we're not really satisfied with," Mike Morris, chair of the Board of Regents finance committee, said during a Tuesday meeting.
"I know you and the president will be looking at other means in trying to balance the budget more aggressively in the coming years so we can end without retractions to our reserves, but additions," Morris told John Lumm, EMU's chief financial officer.
EMU roughly has $40 million in reserves, which mostly are comprised of surpluses from tuition revenue and state appropriations from previous years and investment income on the surpluses.
Prior to last year, EMU experienced small year-end surpluses ranging from $400,000 in fiscal 2011-12 to $1.6 million in fiscal 2009-10.
Overall, last year's $2 million shortfall encompassed 0.7 percent of the school's $283.3 million fiscal 2012-13 budget.
EMU set a $290.6 million budget this year. Enrollment has significantly increased from last year, further solidifying projected revenue for the coming year.
Undergraduate credit-hour enrollment stands at 246,059 hours, as opposed to 241,411 last year.
EMU also experienced a decrease in research grants last year. The total number of research-related contracts and grants shrunk by more than $2 million, sliding to $10.4 million.
The decrease is in large part due to a cutback in federal research spending, Lumm said.
"We just have to get better at getting a bigger piece of the shrinking pie," said regent Francine Parker.
This year the school added $150,000 to its research budget in an effort to increase support staff who assist professors applying for grants.
EMU plans to receive between $10.8 million to $11.3 million in research contracts this year.
Meanwhile fundraising levels saw an uptick last year, hitting $11.5 million, up from $5.1 million this year. Fundraising goals for the current year are set at $8.5 million.