Drivers, Pomeranians OK after accident that sent car crashing into courthouse
Posted on Mon, Jul 9, 2012 : 7:10 p.m.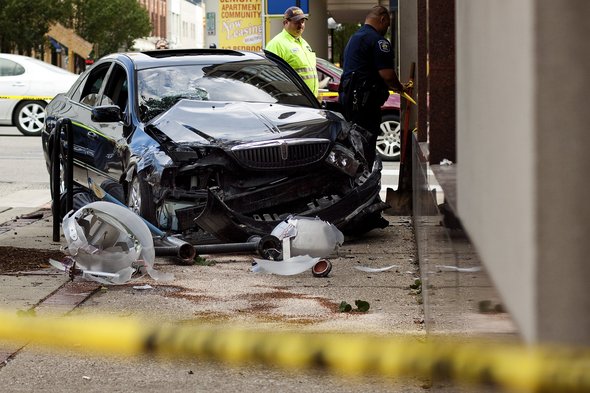 Jeffrey Smith | AnnArbor.com
A Monday evening crash at the intersection of East Huron Street and Fourth Avenue in Ann Arbor sent a Lincoln flying toward the Washtenaw County Trial Court building, plowing over a street lamp in the process.
The Lincoln driver, Taylor Moore of Ann Arbor, was shaken but uninjured. The occupants of a Chrysler Pacifica - Constantine Ioannou of Ann Arbor, and his two mixed Pomeranians, Lady and Balu - also were OK.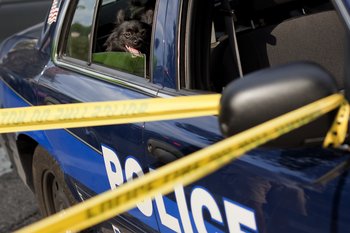 Jeffrey Smith | AnnArbor.com
The Pomeranian pooches were placed in the back of an Ann Arbor Police Department patrol vehicle while authorities investigated the scene.
According to Ann Arbor police, Moore was westbound on East Huron as Ioannou was attempting to make a left-hand turn onto northbound Fourth Avenue around 5:30 p.m. Monday. The light was in the process of turning red.
Moore said he was having a hard time seeing because of large trucks beside him and didn't know the Pacificia was coming. As he tried going through the light, it became apparent the Pacifica was turning left. The vehicles collided.
"The initial hit was like, 'Boom!'" Moore said. "It was unavoidable."
The impact sent the Lincoln into the courthouse.
Ioannou said he started braking when he saw the Lincoln continue through the light.
"As soon as I saw him, I starting hitting the brakes," he said.
Both vehicles swerved, avoiding a T-bone.
Ioannou said his dogs were fine after the crash - and may have not even known anything had happened.
"They didn't even react," he said.
Ann Arbor police said Moore will likely be ticketed for running a red light. DTE Energy was called to the scene to deal with the destroyed lamppost.