Driver expected to recover after car crashes into train
Posted on Fri, Sep 21, 2012 : 9:05 a.m.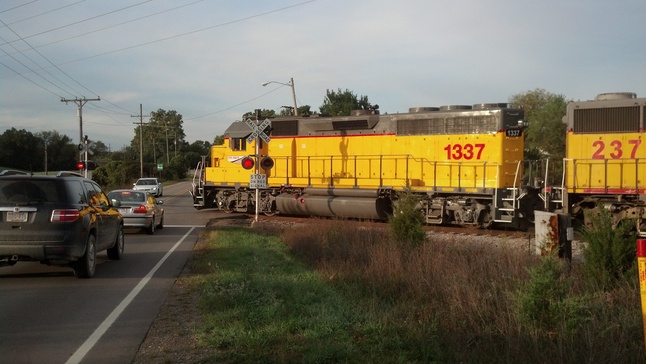 Kyle Feldscher | AnnArbor.com
Editor's note: This article has been updated with additional information from police and firefighters.
A woman is expected to recover after her car crashed into a train in Ann Arbor Township early Friday.
The 23-year-old Livonia woman was driving a 2006 Ford Focus on Pontiac Trail about 4:30 a.m. when she came upon the railroad crossing north of M-14 and south of Warren Road, said Washtenaw County sheriff's Sgt. Geoffrey Fox.
"A train was on the tracks, and she basically drove right into the train," Fox said. No one on the train, believed to be a freight train, noticed the crash and the train proceeded on its way, Fox said.
About 6 a.m., another train or possibly the same train, came through the crossing, and someone on that train noticed the woman's car in a ditch not far away from the tracks, Fox said.
Ann Arbor Township firefighters, Washtenaw County sheriff's deputies and Huron Valley Ambulance paramedics rushed to the scene and discovered the woman was pinned in the vehicle. The driver was alert and talking. She was freed from the wreckage and taken to the University of Michigan Hospital, where she's expected to recover, Fox said.
It's not clear why the woman drove into the train, Fox said. The railroad crossing has signals but no gate. Neither alcohol nor drugs appear to be involved, he said.
Information about the direction of travel of the car and train was not available, but firefighters said the car was on the west side of the railroad tracks.
Pontiac Trail was closed for more than an hour as police investigated the crash.

View Car-train crash in a larger map