Dream Nite Club closes early after empty Friday, manager hopes for improvement with security receiver in place
Posted on Sat, Jun 18, 2011 : 10:59 a.m.
Colorful lights flashed, music blasted from loud speakers and bartenders leaned against counters of fully stocked liquor shelves.
Dream Nite Club staff had everything set for a reopening Friday night after a temporary restraining order by a Washtenaw County judge closed the doors for two weeks.
But one thing was missing: customers. The dance floor remained bare at midnight and five security guards dressed in yellow vests stood talking with one another.
Manager Jeffrey Mangray decided he'd had enough by 12:30 p.m. and turned off the lights. Fifteen people had come through, he said, and it wasn't worth keeping staff around until the normal 2:30 a.m. closing time.
"It's unfortunate we didn't have adequate time to prepare. It's difficult to make plans when you have an uncertainty in your mind," he said. "The closure put a damper on our planning."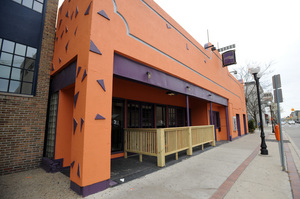 Business at the downtown Ann Arbor nightclub, located at 314 S. Fourth Ave., was temporarily shuttered June 2 when Washtenaw County Trial Court Judge Timothy Connors placed a restraining order on operations. City Attorney Stephen Postema filed a lawsuit the same day, seeking to declare the club a nuisance and have it shut down.
On May 1, a man cut two men in the face and a woman in the leg with a sharp object during a fight on the club's dance floor. A fight developed outside weeks later that resulted in a man being shot in a neighboring parking lot.
Postema and David Shand, an attorney representing the nightclub, met in court this month and Judge Melinda Morris agreed to allow the club to reopen, as long as a receiver is in place to oversee security and general operations.
John Phillips, a former Washtenaw County Sheriff's sergeant, was named to that role this week and will be present at the club each Friday, Saturday and Sunday from 10:30 p.m. to 2:30 a.m. for the next four weeks. He'll submit a report to Morris of his observations and ideas for improvement after that time.
Mangray said he hopes to find a middle ground with the city that results in a safe atmosphere and mutual satisfaction. His staff is instructed to maintain a watch on those who come in and out each night, he said, and any room for improvement brought to his attention is something he'll take seriously.
"The only thing we can emphasize is closer attention to people admitted to the place," he said. "If people are being unruly outside the place, we don't let them in—period. "
Mangray said his staff is instructed to keep the sidewalk cleared in front of the club.
"Our domain is inside the building. It's not that we don't care what happens outside—we do care—but how effective can my security staff be at controlling what happens outside of here?"
Phillips, who was present Friday night for his first shift as the club's receiver, said he'll be taking a look at improvements that can be made to safety both inside and outside of the club. He emphasized that he has no intention of staying on permanently, but would offer his insight for a one-month period.
"I've got an open mind to it, but people have to be safe in here and when they leave," he said.
Kathleen Jordan, 21, of Adrian stopped into the nightclub Friday night with her friend, Jasmine Flores, 21, and said she looks forward to the nightclub atmosphere in Ann Arbor after driving in from out of town.
"The atmosphere was nice—now it's just dead," she said. "We came here a couple times before, but it's been better."
Mangray said he hopes to gain momentum over the next few weeks once planning is again put into developing theme nights. A message was planned to go out to several University of Michigan students taking summer classes, he said.
"Alcohol and human nature doesn't mix very well and every bar in town has its share of problems," he said. "We appreciate whatever help we can get."