Domino's Pizza founder Tom Monaghan talks about Catholic education, giving, new hamburger business
Posted on Fri, May 18, 2012 : 8:29 p.m.
Tom Monoghan - who put his stamp on the Ann Arbor area by developing Domino's Farms after launching Domino's Pizza - made a rare local appearance at an event for fund-raisers in Dearborn, according to a report in the Detroit Free Press.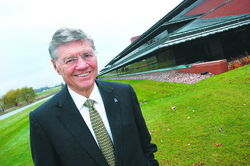 AnnArbor.com file photo
He discussed religion, his new burger delivery business, the Detroit Tigers - and signed copies of his 1988 autobiography, "Pizza Tiger."
Monaghan, also founder of Ave Maria University and town near Naples, Fla., sold Domino's Pizza but remains owner of Domino's Farms. He pledged in 2010 to give away at least half of his fortune.