Groundbreaking for Dexter Wellness Center Aug. 24
Posted on Sun, Aug 5, 2012 : 4:59 p.m.
Dexter will be home to a new wellness center in 2013 that will include a gymnasium, swimming pool, basketball court, strengthening and aerobic areas, saunas, classroom space and more. Groundbreaking for the center will happen at 10 a.m., Aug. 24, at 2810 Baker Road, in Dexter.
A.R. Brouwer Company of Dexter will construct the building slated to house the Dexter Wellness Center.
The Chelsea-Area Wellness Foundation, a tax-exempt private foundation with the mission to improve the health and wellness of residents in five local communities including Dexter, are signed on to operate the center.
"There has been a demand for having a wellness facility in Dexter for quite some time," said Matt Pegouskie, program and community resource manager for the Chelsea-Area Wellness Foundation. "The center will strengthen wellness and fitness options for the Dexter Community."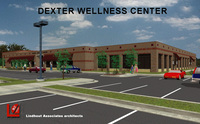 Courtesy A.R. Brouwer Company
The wellness center will be part of a 46,000-square-foot facility built immediately southeast of the Dexter Pharmacy on Baker Road. The new building also will house Medical Rehabilitation Specialists, a physical therapy group, which is expected to open in the summer of 2013.
The wellness center is expected to employ at least 100 people, and information about registering for a membership before the opening will be available soon.
"The location on Baker Road provides easy access for families with school-aged children, student athletes and the community in general," said Steve Brouwer, president of A.R. Brouwer Company.
The Dexter Village Council approved plans for the project in February. The center is the second phase of a three-phase, $9 million redevelopment of the former Colorbok space.
The architectural plans for the Dexter Wellness Center can be found at the Chelsea-Area Wellness Center's website.