Donations to Dexter Area Fire Department yield thermal imaging camera, utility vehicle
Posted on Fri, Jun 22, 2012 : 5:41 p.m.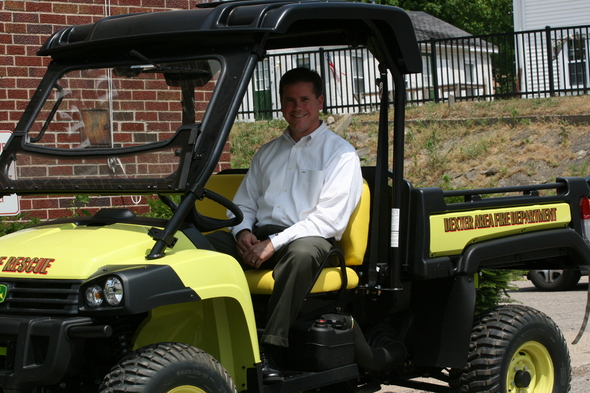 Lisa Allmendinger | AnnArbor.com

As the Dexter Area Fire Department awaits the arrival of its new engine, a $10,000 donation Thursday will mean it will carry a thermal imaging camera.

The fire department also is the owner of a new John Deere Gator utility vehicle that will be used on trails, parks and other natural areas that have recently opened in and around Dexter and other areas inaccessible to larger fire units.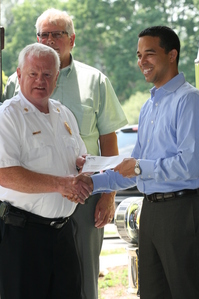 Lisa Allmendinger | AnnArbor.com
"The outpouring of support from the community shows what a great town we live in," said
Jim Seta
, chairman of the DAFD board.
He said that this $10,000 and other donations from the community since the March 15 tornado will help "DAFD reach its goals and mission of protecting our community."
The fire department serves the Village of Dexter, Webster Township and almost all of Dexter Township, where there is a staffed substation.
The department was able to purchase the Gator thanks to more than $6,000 in donations from Boullion Sales, Fancy Stitch and Suburban Chevrolet, Cadillac, Saab, said Dexter Fire Chief Loren Yates.
Thursday afternoon, representatives from ITC Holdings Corp., an independent electric transmission company, presented Yates with the check.
"It makes a big difference for us and not just in terms of fighting fires," Yates said. "We'll use it to find hot spots in walls and other areas, and it will make a difference in our response when people smell smoke in the house."
Fire Capt. Donald Dettling said the older thermal imaging camera the department currently uses "is held together by duct tape, but it's used at all fires and incidents."
Dexter Township Supervisor Pat Kelly said that the tornado went through her township causing millions of dollars in damage to homes and felling thousands of trees.
She said in the wake of the tornado the community has focused attention on public safety.
"Donations to the fire department will allow the department to purchase equipment such as the thermal imaging camera and the new Gator that will provide an increased level of protection for residents, their property and our first responders," Kelly said.