Dexter schools locked down again after child sees "shiny object" thought to be a gun
Posted on Thu, May 24, 2012 : 4:01 p.m.
Dexter Community Schools went into lockdown Thursday after a child reported he saw two teenagers with backpacks carrying something resembling a gun.
"It (turned out) to be an unsubstantiated complaint," said Sgt. Geoffrey Fox of the Washtenaw County Sheriff's Office. "A couple of kids thought they saw another couple of kids with a 'shiny object.'"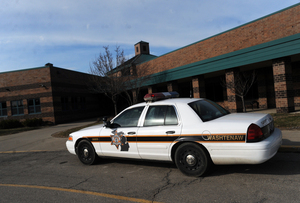 AnnArbor.com file photo
Superintendent
Mary Marshall
said at approximately 2:05 p.m.
Bates
,
Cornerstone
,
Wylie
and
Mill Creek
schools were locked down.
"After an investigation, the two teens with backpacks were seen walking near the schools and were stopped and questioned," Marshall said. "(They) did not have a weapon."
The child who reported seeing the teens later said he actually was quite a distance from them, "so a positive identification of a reported weapon could not be confirmed," Marshall said in an email sent to the community about 3 p.m.
This is the fourth time since the middle of April that Dexter schools have taken the precaution of keeping children indoors, with no one allowed to enter or exit the buildings.
Two of the previous times, gunshots were reported having been heard near the schools. The third time, on May 4, was "a science project that went boom," said Derrick Jackson, spokesman for the sheriff's office.
In the other incidents, sheriff's deputies found a secluded area near the district's transportation complex was being used for target practice.
Marshall said students and staff probably are heightened to gunshots and guns right now.
"Students hear all of this stuff on the news and are trying to find a way to understand what is taking place," she said. "We teach them to report when they are concerned and obviously, this student today did not feel safe based on what he saw, so he reported it."
She said Dexter will always err on the side of caution until such reports can be investigated.
Staff reporter Danielle Arndt covers K-12 education for AnnArbor.com. Follow her on Twitter @DanielleArndt or email her at daniellearndt@annarbor.com.