Dexter Community Schools increases facility rental fees; pay-to-participate fees are likely next
Posted on Tue, Jul 3, 2012 : 3:14 p.m.
Editor's note: The date of Dexter's next school board meeting has been corrected in this story.
The Dexter Board of Education approved increasing the district's facility rental rates by between $5 and $60 per hour, depending on the building and activity, the Dexter Leader reported Tuesday.
The decision was made Monday at the board's regular meeting, with President Larry Cobler, Vice President Michael Wendorf and Trustee Bonnie Everdeen absent. A slight increase to school lunch prices also was approved, said Superintendent Mary Marshall.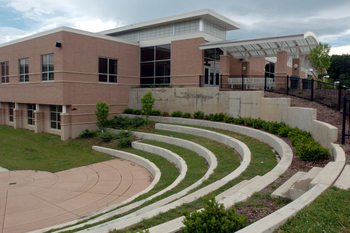 AnnArbor.com file photo
Marshall told
AnnArbor.com
the district was required to raise lunch prices to meet new federal mandates, so the district does not expect to be bringing in any additional revenue from the increase. Recently-passed legislation changed how federal subsidies for free and reduced lunch students could be disbursed, leading to the increase, Marshall said.
Dexter students now will pay 25 cents more per meal, increasing the price of an elementary lunch to $2.50 and a middle or high school lunch to $2.75. Marshall said the district has not increased lunch prices since 2005.
Re-evaluating athletic facility and building rental fees is part of the district's effort to develop a more sustainable fee structure that better subsidizes the district's community education and athletic department costs.
A proposal to increase pay-to-participate fees for high school sports from $100 per sport also is on the table and will be voted on at the school board's July 30 meeting. Currently, athletics, excluding administrative costs, accounts for about $585,000 of the district's $34 million operating budget. The district would like to get to a place where athletics are nearly self-funded, Marshall said.
"We have always focused our fiscal resources on the classroom to the greatest degree that we can," Marshall said. "And while we believe that athletics and extracurricular activities are a wonderful complement (to academics), we are trying to find a way we can fiscally maintain the quality of programming that we have had in extracurricular activities by looking at the fee structure so we don't get into a position of having to look at cuts and reductions."
As part of re-evaluating athletics and community education, Dexter is once again separating the departments. The school board approved hiring a new community education director at Monday's meeting at a starting salary of $50,000, according to board documents.
Also according to board documents, the current cost to rent Dexter High School's gym is $60 per hour, $40 per hour for nonprofit groups. The average high school gym costs between $40 and $98 to rent at other schools in the area. The new fee structure approved Monday will bring Dexter's rates closer to competing districts, Marshall said.
She said the district did need to reduce staff by about 6.5 teachers to balance its budget for 2012-13. The reduction occurred through attrition, so no layoffs were necessary. However, it will increase class sizes by one student per class, she said. Marshall reported the average kindergarten class currently has a maximum of 25 students, while the average class at the high school has, at most, 33.
Dexter staff agreed to a 20 percent reduction in compensation for coaching or overseeing clubs and activities for students in addition to their regular paid positions. Teachers' health insurance contribution rates also will increase from 10 percent to 15 percent starting in 2012-13, Marshall said.
School officials are projecting about $33.2 million in revenue for fiscal year 2013. They also plan to use about $680,000 of the district's fund balance or main savings account to balance the budget, as well as an additional $330,000 in fund equity to implement all-day kindergarten, as the state now requires for full per-pupil funding.
Previous story: Dexter schools: Separating athletics, community service departments to save up to $20K
Staff reporter Danielle Arndt covers K-12 education for AnnArbor.com. Follow her on Twitter @DanielleArndt or email her at daniellearndt@annarbor.com.