Dexter in a holding pattern on its cityhood quest until official document from the state arrives
Posted on Tue, Sep 27, 2011 : 10:50 a.m.
The Village of Dexter is taking a breather in its drive for cityhood at the moment as it waits for official notification from the state that the village's proposed boundaries were denied approval a second time.
Monday night, several council members questioned how much taxpayer money fellow elected officials were willing to spend on a quest toward cityhood and requested a "better understanding of the costs" from village staff.
At this point, about $47,000 has been spent on cityhood, about $35,000 on an accurate village boundary, something the village didn't have before, said Council member Paul Cousins said.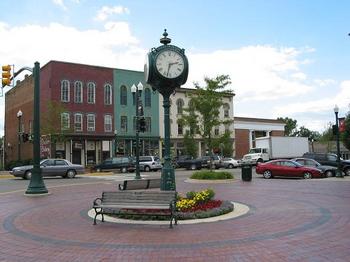 Downtown Dexter MI
And it's estimated that a court battle to determine if the boundary commission followed the letter of the law in its recent denial would cost between $5,000 and $10,000.
At issue is whether a current Public Act 425 annexation and tax revenue-sharing agreement, which includes parcels in Webster Township, can be incorporated into a new Home Rule City.
Earlier this month, the state boundary commission upheld its original August ruling that the village's proposed boundaries were legally insufficient, and denied the village's proposed boundaries, which include historic Gordon Hall, located in Webster Township.
In a memo to the Village Council, Tom Ryan, Dexter's special boundary attorney, said he was "sorely disappointed" in the decision.
Once the village receives a signed decision from the state, the attorney recommends that, if the village wants to appeal, it do so within 21 days to the Circuit Court in Ingham County, where the boundary commission hearings take place.
Then, it would be up to a judge to decide whether land in a 425 agreement can be incorporated into a new Home Rule City.
After the state ruled the original village boundaries "legally insufficient" on April 12, 2010, the council voted to resubmit a petition and changed the boundaries to include Gordon Hall and the back half of the Mill Creek Sporting Goods store property so the village had a contiguous boundary.
Ultimately, the exact boundaries would be determined by the state.
At both boundary commission hearings, both the Dexter Area Historical Society and Webster Township objected to including Gordon Hall in the proposed city limits.
Dexter's website has extensive information about all the steps involved as well as the history of the process to date.
It's expected that the next step will be discussed at the village's next regular council meeting on Oct. 10.
Lisa Allmendinger is a regional reporter with AnnArbor.com. She can be reached at lisaallmendinger@annarbor.com. For more Dexter stories, visit our Dexter page.