with gallery:

Special needs baseball league in Dexter raising funds for new field

Posted on Mon, May 21, 2012 : 5:56 a.m.

Eight-year-old Libby Covert gets a big smile on her face when her mother, Kim Covert, mentions baseball.
Libby — whose special needs cause her to use a wheelchair — is shy around strangers, keeping her head down while Kim does the talking. Then Kim mentions baseball and Libby's head pops up, revealing her toothy smile.
The sun is bright outside of Cornerstone Elementary School in Dexter, but Libby's eyes suddenly have gone from squinting to wide with excitement.
Libby is a first grade student at Cornerstone and one of more than 20 players in the Dexter Little League's Challenger Division, comprised entirely of mentally and physically challenged players. The Challenger Division plays on Sundays, and Covert said by Saturday Libby can barely contain her excitement.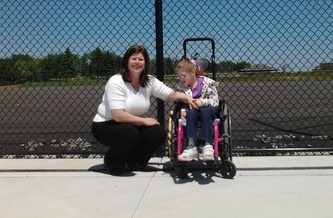 "When we talk about her brother's games, who play on other days, she gets real excited and we have to remind her it's not her day yet," Covert said. "She just loves it."
Soon, Libby and her teammates hope to have their own field.
Since its inception seven years ago, the Challenger Division has played on the Dexter High School softball field. Though handicapped kids from all over Washtenaw County come to Dexter to play, the dirt infield is a hindrance to players in wheelchairs, or who require walkers or crutches.
"The diamond down there is pretty nice," said Covert, who is the programming coordinator at Dexter Community Schools' community education and recreation program. "But it's just not quite as inclusive as it could be."
Covert sat on Dexter's school board when a plan to build a handicap accessible baseball diamond with a rubberized surface on school grounds was approved using money borrowed from the district's bond fund.
Now it's her job to help pay the school back and finish the job which was started last summer.
Covert was hired for the program coordinator position in December and resigned from the school board due to a potential conflict of interest. Part of her new job is heading the fundraising efforts for the "Field of Champions."
"At first, I became interested in (the Challenger Division) personally, and now it's professional," said Covert.
The field will be utilized for many other activities in addition to Challenger Division baseball including Special Olympics events, T-ball and kick ball.
"It's a real boost for the community and (the field) helps us reach a broader base," Covert said.
Roughly $70,000 was borrowed from the school's bond fund to lay asphalt for the field and install a backstop last summer. While a bus loop was put in on the joint campus Dexter's Wylie, Bates, Cornerstone and Creekside elementary schools. Before the project moves forward, that money needs to be paid back and money for the next step -installation of the rubberized playing surface - needs to be raised.
"We are hopeful that (construction) will be done over the summer, but a lot of that will depend on how fundraising goes this spring," Covert said.
The entire project - which will include covered dugouts, a home run fence, handicap accessible water fountains - will cost $150,000.
"It's expensive, we know," said Mark Schmidt, who started the Challenger Division seven years ago and has been a volunteer coach ever since. His 20-year-old daughter, Christine, has played every year. "It's an ambitious project in a restrained environment, but I think we're making good progress."
Those fundraising efforts will begin Monday when Dexter's varsity baseball team plays a 4 p.m. doubleheader against rival Chelsea at the University of Michigan's Ray Fisher Stadium. Donations will be sought during the game, which will serve as a kickoff for the capital campaign for the rest of the project.
The Dexter baseball team volunteered during Sunday's Challenger Division game, as well.
"We just thought it'd be great to help any way we can," said assistant coach Mike Penn. "We try to get the guys involved in the community as much as possible and we're hoping by playing in the stadium more people can make it out."
It would take a lot of 50-50 raffles to raise $150,000, though. Covert hopes to use the fundraiser to raise awareness before seeking contributions from private donors.
She realizes the tornado that ripped through town recently may have an effect on donations and said realistically the project will probably have to happen in stages.
"We can do what we can do when we can do it," Covert said. "My big dream, that's probably a couple of years away."
Any extended waiting period is worth it in Schmidt's opinion.
"However long it takes that's how long it will take," Schmidt said. "Just to see the look on these kids' faces every Sunday...it's a worthy cause.
Contact Pete Cunningham at petercunningham@annarbor.com or by phone at 734-623-2561. Follow him on Twitter @petcunningham.