7 months later: Dexter woman recalls 'horrifying' March 15 twister, praises newfound friendships
Posted on Mon, Oct 15, 2012 : 5:59 a.m.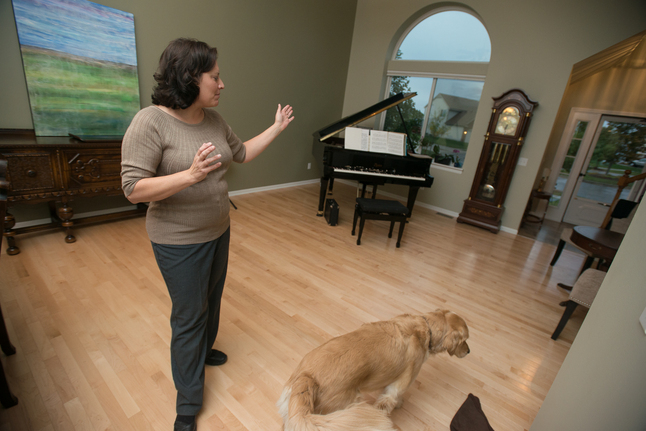 Courtney Sacco I AnnArbor.com
Related article: Dexter tornado aftermath: Victims still learning to cope with disaster 7 months later
On March 15, 2012, a powerful EF-3 strength tornado swept through Katherine Pfeiffer's Dexter home, causing more than $250,000 in damage and displacing her family for nearly six months.
With its 145 mile-per-hour winds, the twister damaged approximately 380 residences, causing at least $9.1 million in damage. Nobody was injured or killed.
But today, as she continues to tally the loss of her belongings and deal with the aftereffects of the tornado, Pfeiffer tells people something surprising:
"I wouldn't take this out of my life."
Why? Because for Pfeiffer, one of the aftereffects of the Dexter tornado is irreplaceable. The kindness she received from her neighbors and friends, her family and complete strangers taught her something about people and their ability for compassion. In the wake of the physical loss and emotional depression the tornado brought, dozens of new relationships and friendships formed, Pfeiffer says.
"Of course no one ever really wants to go through a drama like this," she says.
"But... I wouldn't remove the tornado from happening because it has created this really positive momentum in my life."
Pfeiffer acknowledges others might not feel the same. Yet nearly everybody affected by the tornado has a wealth of stories about acts of kindness and giving in the aftermath of the March 15 event, she says.
"Life is odd actually. More came from [the tornado] than the tragedy that happened."
The event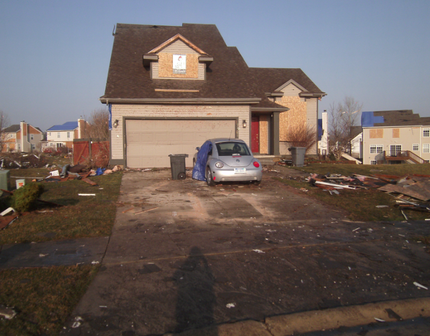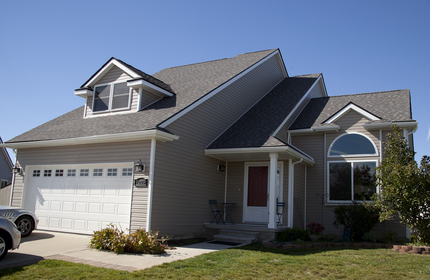 On March 15
Katherine Pfeiffer
arrived home to the deep notes of the cello.
She knew instantly it was her daughter, home from high school. She climbed the stairs and found Angelina in her bedroom, perched on a chair by the second-floor window. Behind Angelina, the sky looked dreary and dark.
On the way home to Dexter from her job at a start-up company in downtown Ann Arbor Pfeiffer had heard a tornado siren, but didn't think much of it. The ominous sky and a second siren, however, made her think twice. Soon, she saw swirling leaves.
"It's looking kind of bad," Pfeiffer recalls telling her daughter at around 5:20 p.m., minutes before the cyclone touched down in her suburban neighborhood. Pfeiffer urged Angelina and her two dogs into a tiny basement closet. Still, she did not really think danger was looming: "I thought I was just being dramatic."
"As soon as we shut the door, that's when everything broke," Pfeiffer recalls.
"Our ears popped. Then all of a sudden the windows were breaking," she continued. "It sounded like the whistle of the tea kettle going off. It was truly going on for at least five minutes; just this constant noise of everything breaking and it going on and on."
In the midst of the excitement, Pfeiffer looked around the closet and saw shelves filled with glass dinnerware and serving dishes. Even before the tornado, Pfeiffer possessed a severe fear of broken glass.
"I realized I picked the worst closet in the house," she says. "I remember thinking 'Oh crap.' I had no idea how long it was going on. The dogs were freaking out
You know in the movies where the woman is hysterical and needs to be slapped? I was like that for the first time in my life. I had never felt that before, I completely lost control."
The twister finally ceased and, after a pause, Pfeiffer and her daughter left the closet. Pfeiffer looked outside. Her neighbor's house was missing its roof. Debris covered the yard. Her basement was filled with water. Every window in her house was broken. She went upstairs and broken glass was everywhere. Holes spotted the roof she had replaced just a year before. Many belongings were ripped out of the house by the wind.
"I was just horrified," she says.
"You never expect that this is ever going to happen. You kind of take heed and you're careful, but really you never think it's going to happen to you. It always happens somewhere else far far away."
The cyclone cut a path of damage 7.2 miles long, ruining or greatly damaging 36 homes and affecting an estimated 380 residences. With the strength of 145 mile-per-hour winds, the tornado uprooted hundreds of trees.
The Huron Farms neighborhood where Pfeiffer lives was one of the areas hardest hit. Pfeiffer's home was considered a catastrophic loss by her homeowner's insurance and she was displaced more than five months as contractors rebuilt the home she had designed and built from scratch 15 years earlier.
The overall damage to her house was estimated at $150,000 and more than $100,000 of her belongings were ruined, according to Pfeiffer.
"I couldn't believe our house could ever sustain anything like that," she says.
Friendships
One of the hardest parts of being a tornado victim, says Pfeiffer, was being someone in need of assistance, instead of the one helping. As the mother of two children and a military wife whose ex-husband was stationed in Bosnia in the 1990s, Pfeiffer says that prior to the twister, she was the "go-to person" when crises arose.
"I found myself in this weird space," she says. "I suddenly was in a situation where I didn't even know how to precede. All of a sudden my house was really turned to shreds. You don't know what to do when it's that bad."
To Pfeiffer's relief, others stepped in to help. In the weeks that followed, Pfeiffer and her family received groceries from the Red Cross and St. Joseph Parish in Dexter.
The Cedars of Dexter, a condo complex for adults over 55, let Pfeiffer and her daughter live in an unsold unit rent-free for five and a half months. The community there filled her cupboards with food and provided her with linens and furniture.
"They said 'We're here for you,' and it was just amazing,'" Pfeiffer recalls.
Meanwhile, her Huron Farms neighbors helped her move into her rebuilt house recently.
"As time passed I had this whole new group of friends," she says. "There were people that lived behind me that I never knew and now I see them every day."
Today, a group of neighborhood women affected by the tornado get together weekly. They're friends, Pfeiffer says, and "that never existed before the tornado."
In spite of the rallied community, difficulty came in waves during the months after the twister. That spring, Pfeiffer lost her job at the Ann Arbor start-up. (She has since found a new job at the University of Michigan, which she began in September.) Her youngest daughter left for college.
Yet also during that time, Pfeiffer's new-found neighborhood friends helped her put together the IKEA furniture she purchased for her refurbished home. One neighbor planned a graduation party for her daughter, then a senior in high school. Another neighbor brought her soup when she got the flu.
"There was this sweet generosity, this constant caring," said Pfeiffer. "It lessened the sadness and the frustration and the fear that we were going through."